Support for N.U.in Students
Studying abroad with The N.U.in Program during your first semester of college is an exciting adventure, and you'll be supported by the Explore Program along the way.
New to the N.U.in Program? Learn more about this unique, first-semester program for students who are seeking a challenging academic experience with an international edge on the N.U.in Program website.
Explore Program Advising
Explore Program advisors are available to connect with you at any time leading up to your departure, during the fall semester, and in preparation for your transition to campus in the spring. Each advisor works with specific N.U.in locations, so you will be assigned an Explore Program advisor who is familiar with the courses available at your site.
We take a holistic approach to advising, which means that we are here to help with more than just academics. We want to know about your fall classes, your transition abroad, your major exploration, and we may even ask if you are getting enough sleep! Our goal for advising is to help you maximize your time abroad and prepare for your transition to campus in the spring.
Advisors will also guide you through the registration process for spring courses. We will ask you to complete our Registration Request Form and will register you for courses based on your academic interests and requests. Once you are registered, we will set up a phone or video call to check in about your interests and spring schedule. We will also meet in-person at Spring Orientation in January.
N.U.in Mentors
In addition to an Explore Program advisor, we will also assign you an N.U.in Mentor. N.U.in Mentors are former Explore Program students who connect virtually with N.U.in students during the fall semester.
N.U.in Mentors will connect with you individually or in small groups with other Explore Program students at your site. Your mentor will facilitate activities to guide you in your academic exploration and help you prepare for your transition to campus in the spring.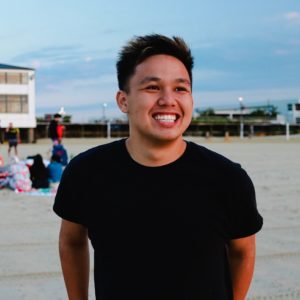 "N.U.in Greece not only gave me a fantastic opportunity to explore the world while adjusting to college, it helped me develop skills in planning, prioritizing, and self-advocating that helped me succeed when I returned to classes in Boston."
Matt Calapatia, Cell and Molecular Biology