There are many ways for you to connect with us and learn more about Northeastern and the Explore Program!
In addition to connecting with us directly, we encourage you to join the Undergraduate Admissions mailing list for more information about life at Northeastern, upcoming events, application information, and more.
Digital Events
Can't make it to campus? Explore Program advisors would love to connect with you virtually! Sign up for our next "Life in the Explore Program" live webinar, and check out the full list of Undergraduate Admissions prospective student events.
Contact Us
Email us at explore@northeastern.edu to connect with an Explore Program advisor or student leader. We look forward to answering your questions and telling you more about our program!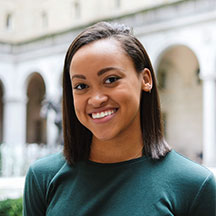 "I chose the Explore Program because I thought I wanted to major in Business, but wasn't 100% sure. I am so glad I went into the Explore Program because I was provided with the events, tools, and advising that I needed to determine that Communication Studies was a better fit!"
Michelle Birch, Communication Studies