The Explore Program is Northeastern's home for undeclared students.
If you are someone who has too many talents and too many interests to choose your major before you start your first semester at Northeastern, the Explore Program may be a good fit for you! As an Explore Program student, you will take the time you need to make informed decisions about your academic and career path as you prepare to choose your major.
With more than 220 majors and combined major programs at Northeastern, starting your journey in the Explore Program is a smart choice. We have many resources to help you test out your academic interests, connect with faculty and students in majors, and explore possible co-op and career paths.
Here is just a small sample of the resources we offer to guide you in your exploration process:
Experienced academic advisors to help you choose your courses, navigate Northeastern, and design your academic and experiential path.
A community of more than 60 student leaders across majors and colleges to support you in your first semester and beyond, including N.U.in Mentors for students participating in the N.U.in Program during the fall semester.
Exploratory events to connect you with faculty, students, advisors, and alumni in majors of interest.
Dedicated first-year seminar course to share your journey with other Explore Program students.
Our unique structure encourages self-discovery and offers a welcoming community of staff and student leaders guide you as you learn about the opportunities available to you as a Northeastern student. Feel free to contact us if you have any questions about how it works.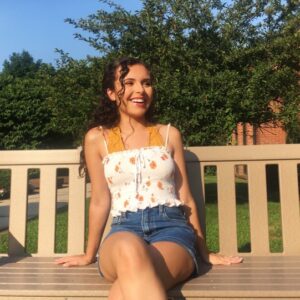 "Before coming to Northeastern I thought I had to become a Business major because I'm interested in Marketing. After attending the Meet the Majors fair the Explore program hosts every year—where I spoke to professors and students in Media Arts, Communication Studies, and Graphic Design—I decided I wanted to explore classes in those areas instead. The encouragement and support of my Explore advisor and Connections and Decisions TA gave me the courage to declare and pursue what truly interested me, so after a year of exploration I declared a Media Arts and Communication Studies combined major with a Graphic Design minor! I then became a student leader for the Explore program to give back to the amazing Explore community and encourage freshman Explore students! My time as a student leader brought me great joy, and I was able to expand my leadership, mentorship, and communication skills."
Marena Ramirez, Class of 2022