Our student leaders are here to support you in your academic and experiential exploration. They know what you are experiencing as an undeclared student, because they were undeclared too!
You will be paired with at least two student leaders during your time in the Explore Program: a Teaching Assistant and Peer Mentor in your Connections & Decisions course. N.U.in students will also be assigned an Explore Program N.U.in Mentor during their time abroad. We have a network of more than 60 student leaders, which means that your mentors can always connect you with someone who shares similar academic or extracurricular interests.
Learn more about each of our student leader roles below:
Teaching Assistants and Peer Mentors are assigned to your Connections & Decisions class and facilitate activities to help you reflect on your experiences, providing you with guidance and encouragement as you explore. They share their experiences, connect you with their networks, and help you learn about academic and experiential opportunities at Northeastern. They are also available for one-on-one meetings with students.
N.U.in Mentors serve as a key contact for Explore Program N.U.in students while you are abroad during your first semester. Your N.U.in Mentor will schedule virtual meetings to talk about your exploration, academic interests, and spring course registration.
Summer Ambassadors connect with new Explore Program students via phone, email, social media, and in-person when possible as you get ready to join Northeastern and the Explore Program in the fall.  Our Summer Ambassadors look forward to supporting you and answering your questions as you prepare to join us on the Boston campus: your new home away from home!
Explore Program student leaders with at least one semester of student leadership experience may apply to be Coordinators. These Coordinators meet weekly with Explore Program staff, facilitate the NU Horizons student organization, and support program events, communications, social media, and assessment. The Coordinator position is an opportunity for student leaders to enhance their leadership and facilitation skills. Coordinator roles include:
Alumni Coordinator
Assessment Coordinator
Communications Coordinator
Community Coordinator
Events Coordinator
NU Horizons Coordinator
Recruitment & Training Coordinator
Social Media Coordinator
Students who have federal work-study can apply to work at the front desk in 1 Meserve. Our office assistants help students check in for advising appointments, greet and direct students and visitors, and assist with administrative projects.
Becoming a Student Leader
All first- and second-year students who started in the Explore Program are invited in January to apply for a student leader position for the following academic year! Becoming a student leader is a great way to stay connected with the Explore Program after you declare your major and develop leadership skills.
Students with federal work-study are invited to apply for an Office Assistant position at the start of each semester. Contact explore@northeastern.edu for more information.
"As part of the Explore Student Leader Program, I have been provided with the opportunity to meet and interact with so many fellow student leaders of all different majors. Not only that but as a student leader helping support first-year students in declaring their major, I too have had to constantly self-reflect on my own major decisions alongside them. The Explore Student Leader Program is truly a place where I can continue to grow and give back in a collaborative community."
Courtney Lee, Business Administration  
"I joined the Student Leader team because I wanted to help undeclared students in the same way that my student leaders helped me. The Explore Program community helped me adjust to campus while also helping me explore a variety of majors. Staying in the Explore Program after I declared my major has helped me to continue exploring and keep an open mindset about different opportunities and experiences I have, especially when talking with first-year students about their explore process. "
Brynn Flannery, Business Administration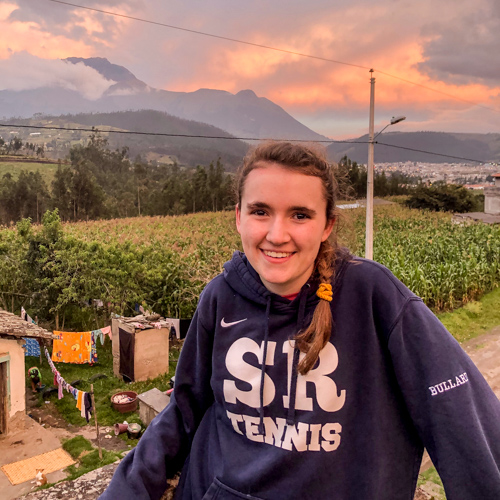 "For me, being a student leader means that I am a part of a great community of Northeastern students who are passionate about helping others. I spent this semester taking classes while on a road trip in my campervan, and through it all the Explore Program has been supportive of my adventure and made me feel like a welcome member of the community. From small group meetings to fun social events, I have really been able to meet some amazing people and make strong connections through the Explore Program."
Beyer Bullard, Human Services