Summer 2023 Must Reads and Listens
By: Kerri Johnson, PreMed and PreHealth Advising Staff 
With the end of classes here, and the warm weather quickly coming in.. You may be wondering what are my must reads for the summer?! What podcasts should I be listening too? Your advisors at the PreMed and PreHealth Advising Office have you covered.  
While studying medicine, you may be interested in hearing from people who are already practicing in the field or people who have made it through the time you are currently in.  
Here are our 5 Must Reads for Summer 2023:  
1. When Breath Becomes Air by Paul Kalanithi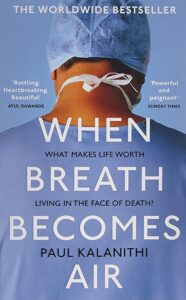 Stanford University neurosurgeon, Paul Kalanithi writes about the meaning of life in this beautiful novel. Kalanithi was diagnosed with terminal lung cancer at 30 years old and while experiencing this hardship found grace in probing the question "what is the meaning of life". Kalanithi relates this to his experiences as a neurosurgeon. 
2. This is Going to Hurt by Adam Kay 
Adam Kay writes an inspiring and insightful page-turner in this one. Kay walks us through his career as a gynecologist starting from his application to medical schools. He offers insights into being a Junior Doctor, what it was like seeing his first death and saving his first life.  
3. Do No Harm by Henry Marsh 
Neurosurgeon, Henry Marsh dives into the reality of having someone's own life in your hands. Marsh explains some of his greatest accomplishments and most painful failures, in this New York Times bestseller. Neurosurgery is all about intricate skill, knowledge, and a steady hand, but most importantly- the day-to-day decisions neurosurgeons make (with urgency).  
4. Letter to a Young Female Physican by Suzanne Koven
This book stood out to me for multiple reasons, one because it is an empowering book for our female students; but also, that Koven is a primary care physician at Massachusetts General Hospital in Boston. Koven "yearned to tell my younger self what I wished I'd known" in this novel. Koven discusses sexism in the workplace all while uncovering her gifts and acceptance of her imperfections.  
5. Physican Leadership: The 11 Skills Every Doctor Needs to Be an Effective Leader by Karen Nichols  
Karen Nichols dives into the importance of what it truly means for a physician to be a leader. The novel outlines 11 true principles of physician leadership with examples of real world scenarios. Nichols explains that "you will learn foundational leadership essentials that every physician needs to master to transform themselves from a highly motivated novice leader into an effective, skilled and productive leader." 
I completely recognize that some of you may not want to read in your free time, but listening to audiobooks or podcasts is always a wonderful option.
Now onto podcast recommendations (all linked)
Our 5 Podcast Recommendations: 
This podcast discusses the latest trends, topics, and innovations in the field of dentistry. The podcast is hosted by Dr. Melissa Seibert, a practicing dentist and features interviews from experts in the field.  
2. The Dental Download with Haley Schultz  
This podcast provides conversations with dentists, dental specialists, and experts in the industry. Hosted by Haley Schultz, she shares her experiences as a current D3 and pre-dental advice for students in the process or thinking about applying to dental school. 
3. All Access: Med School Admissions with Christian Essman 
This podcast is a great resource for the pre-medical community. Case Western Medical School hosts other medical schools to better understand what they are looking for in their applicants. You will get insightful tips and reliable advice about the medical school application process.   
4. Docs Outside the Box with Dr. Nii Darko 
Docs Outside the Box maintains a loyal fanbase and consistent content quality. Nii Darko's show "brings stories of ordinary doctors doing extraordinary things to inspire other docs to think outside the box". This weekly podcast is inspirational, emotional and truly enlightening. 
5. 2 Docs Talk with Dr. Kendall Britt and Dr. Amy Roger  
Kendall and Amy cover a wide variety of topics in the medical space. Together, they want their listeners to be better equipped to actively partner with physicians to make the best decisions for your own health.