"Three Guys and a White Coat"; A Premed Podcast by Michael Bernazzani, '15
Let me start with this, if you are thinking about going to medical school I think you are in an amazing school to do it. Between the challenging academics, all the research opportunities and CO-OP program, Northeastern University has everything you need to build up your resume for the AMCAS application. Rest assured if YOU take full advantage of the experience and seek the proper guidance you will be ready, but only you can do that. Something I wish I had better understood in undergrad.
Some information on me though, my name is Michael and I graduated from Northeastern University back in 2015 with a major in Biology and a minor in Psychology. I applied to medical school right out of college in 2015 and did not get in, which threw my life plan into a tail-spin. My first thought was, "A GAP YEAR! Are you kidding me? I'm going to have to take a year off?" Sounds terrible right?
Looking back though, I am not surprised I didn't get in. I didn't know what I was doing. I was the first in my entire family to attempt the medical school path so I was just kind of following others as I went through undergrad. Just trying to check boxes that I was told I needed to have for medical school. There was no purpose though, no reason for the things I was doing. Even if I had gotten to an interview I don't know what I would have talked about!
Fun fact, I was having such a good time I actually ended up taking 2 gap years and I would never give those 2 years back. Professionally, I worked at Tufts Medical Center as a Clinical Care Tech. There I got on two posters and got promoted to the head tech in the hospital. I coached a youth soccer team to their first championship game and worked at MGH's Sports Performance Lab. There I discovered my passion for medical cinematography and got a unique surgical technique video publication and gained an amazing mentor.
Socially, I was able to enjoy myself with my friends. I was able to travel with them and spend time with my family. I traveled to Colorado, LA, Maine, New Hampshire and the Bahamas. These are all things that I would have missed out on had I gone straight into medical school. Getting this out of my system during my gap years provided me a much clearer and focused mind.
When I applied again in the summer of 2017 for matriculation in 2018 the process was 1,000 times different! I could write with passion about my experiences. Plus, I also knew what was going to be asked of me in the application and secondaries this time so I wasn't walking in blind! My letters of recommendation had improved dramatically as well. This time when I talked to my interviewers I could talk with vision as to where I wanted to go with medicine. At the end of the process I choose to commit to Loyola Stritch School of Medicine and I got to do that because this time I took my own journey to find my path to medical school. I wasn't tagging along on someone else's journey.
That's what I need you guys to understand, medical school is a very special journey that only you can take. There is no A to B point from undergrad to medical school no matter how bad you want that. Just like you, I was told this in undergrad, but I didn't believe it till I started at SSOM this year. The amount of diversity in my class between majors, age (avg 27yrs old, range 21- 33) and background is unbelievable!
I don't believe it is our fault as premeds that we have a distorted perception of how to get to medical school. There really isn't any great source of truly honest and unfiltered information for all of you unless you personally know a medical student. Which made me and two of my medical school friends disappointed. So we decided to do something about it.
Together my friends Dejong, Semler and myself created the YouTube Podcast "3 Guys and A White Coat"!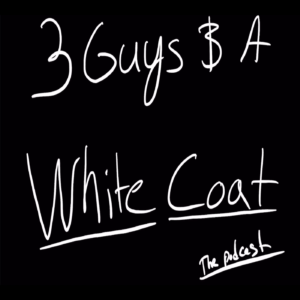 In the first season we cover the absolute basics on the AMCAS application for you. From a students perspective we give quick tips to make sure you are ready when you decide to apply, we cover topics like
What is a committee letter? What you do if your school doesn't have one.
Staying in contact with your boss or supervisor for letters of recommendation.
Majors for med school.
Doing multiple and different volunteer experiences.
HOW and when to ask for letters, EARLY!!!
Review resources we personally used for the MCAT
Tips on how to prepare and feel comfortable come test day.
We know that your advisors talk to you about this stuff, but Dejong, Semler and I think hearing it from current medical students will really drive it home! We give it to you straight we are not sugar coating anything. If you ask us a question we will be as honest as possible!
We are currently filming the second season where we will be interviewing our classmates and teachers on their paths to medicine. I hope that in this season, these stories will help resonate with all of you and show you that there is a place for you on the road to medical school even when it might not seem that way. In these episodes, I personally reference a lot of things I wish I had taken advantage of at Northeastern University and the benefits that our program gave to me. We are by no means experts, but know what it was like to apply and we want to be your virtual medical school friends!! So come hangout and listen to what we have to say if you want!