Alumni Reflections: Life at a Caribbean Medical School by Katerina Nozhenko, '19
"It's not easier."
Leading up to graduation, my swim coach told me "Why don't you go to a Caribbean school? Don't rule it out." Then I heard it again..and again. Not because after 22 years of hard work I was unprepared, but because a career in medicine was the only thing I ever envisioned myself in. The people in my life knew how much I wanted to be a doctor-but they also knew the realities of U.S. medical school admissions. So, I made an appointment with PreMed advising to pick Ciara's brain about… well everything.
Are their facilities modern? Yes, the entire school is quite modern- equipped with SIM labs, cadaver labs, indoor & outdoor study halls, college-style dorms, on-campus eateries, convenience stores, and more.
Is the content aligned with U.S. medical schools? Absolutely. The Grenadian Medical & Dental Council is recognized by the U.S. Department of Education as an accreditor whose standards are comparable to U.S. medical school accreditations and remains eligible with the U.S. DOE Title IV student loan program.
SGU's first 2 years are structured to have students do three passes of all the body systems- Pass 1: the Normal (anatomy, physiology, cell biology), Pass 2: the Abnormal (pathology/ pharmacology/ microbiology, by body system), and Pass 3: putting it all together in preparation for our first board exam, Step 1. *Of note, IMGs (international medical graduates) must pass Step 1 prior to beginning clinical rotations in Year 3- a difference between SGU & U.S. medical schools.
What are the living conditions? Good! There are dorms on campus where Term 1 & 2 students must live (unless they qualify for an exception) with different options. The dorms have air conditioning, kitchen, furniture, & maid service every few days.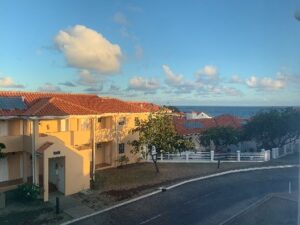 After Year 1, students can participate in a lottery to continue living on campus or they can move off campus. Many students rent apartments with friends and connect with upper termers for advice on landlords. SGU has a free student bus route that many apartments are near.
But from my meeting, what I really walked away with was Ciara telling me:
"The only students that don't do well at SGU are the ones who go there thinking it will be easier. It's not easier. You have to work just as hard, and you'll be fine."
Still, this was a big decision. So off I went to meet with more advisors, SGU faculty, and current students to ask a million questions more. I asked about camaraderie vs competition and was happy to hear that SGU students are a very diverse family. About what to bring and what's available and affordable (Bring your favorite snacks!). And what specialties do SGU students enter? (Answer: All of them).
What's the schedule? We have 5 terms?? And 3 matriculation classes?? Yes, your first 2 years (5 Terms) will consist of Small Groups, IMCQs (interactive multiple-choice questions), or labs most mornings, 2 lectures every day, and DLA's (directed learning activities) for homework. Attendance is required. All terms are approximately 18 weeks long except a six-week Term 3 combined with Term 4. Then, depending on which class you're in (January, April, or August) you have X number of weeks to study for Step 1- (January class has the most time since they end in Dec and have until April or so to study)- and you're off to clinicals for 2 years (in the USA or UK-depending on where you want to practice). Then you pass more boards (NBME's, Step 2) and Match!
Here's the cool part U.S. Med schools don't offer: SGU has clinical connections in multiple states. So, if you're from California, you can rotate near home. If you like New Jersey or New York, have family in Florida or plan to move to Chicago, you can state that on your top-3 rank list. The SGU clinical coordinators try their best to give you your first-choice location (not necessarily hospital) depending on your timeline.
What if I have a medical condition? This was my biggest fear going to an island for two years. If you have a chronic medical condition like me, a T1 Diabetic, you'll likely be advised to bring all of your supplies with you (a 4+mo supply). Pharmacies are available but timely supply to the pharmacy is not guaranteed. I also emailed and met with the Director of Student Accommodations to discuss exams. Be proactive early!
Regardless of medical history, every student must have medical insurance with international coverage. If not, you can purchase one through SGU. SGU has a health clinic on campus that can also help direct you to other medical offices (for example, I needed an orthodontist). Grenada has a hospital but if they can't properly treat an emergency, they MedEvac you to the States.
What about the little conveniences? While Grenada is equipped to foster a large student body, understand that it is an island where most things are imported. You can find many of the same foods seen in the States, but brand names can be expensive. So, if you have a comfort food that you can bring with you (cookies, chocolate, Nutella) I would consider packing it!
Amazon does not ship to Grenada. At least not when I was there. You may also run into customs fees for items you ship/receive. (So, bring extra chargers and tablet pen tips!) We do however have a great SGU Student Facebook Marketplace to buy/sell things.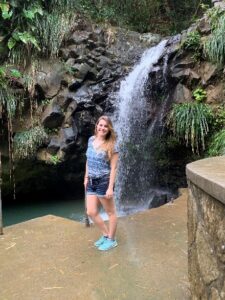 There is no Uber/Lyft but there are taxis and most of them can be contacted through Whatsapp.
Some students/families invested in a local cell phone plan, but many of us turned on airplane mode and communicated through Whatsapp/Facebook/ GroupMe via Wifi. Some had an international U.S. phone plan which was helpful off campus.
Explore when you have free time! There are food plazas near campus, and there are a few popular bars and beaches. Grenada has wonderful nature, I was advised to hire a taxi for the day and visit the Seven Sister Waterfalls, go snorkeling, and dive to the Underwater Sculpture Park.
Then I applied, packed and landed in Grenada! An SGU student welcomed us at the airport, and I was off to orientation. I joined the EMC, WIM, and swim club. I passed my first exam, went out to eat, & made new friends. I was met with a semester's worth of college bio in 2 days but SGU's advising, learning strategists & upper termers were ready to help with the incoming flood of information.
I saw the water on my way to class every day, participated in the intercollegiate athletic Olympics, had ice cream with my college dean, and made friends with the "egg man" (affordable eggs every Tuesday!). Then we got evacuated.
While the rest of my medical school experience was very different due to Covid-19, SGU is returning to in-person learning and you could be the proud NEU alum to continue my island story.
SGU prides itself in producing the most physicians to the U.S. than any other school. We have more flexibility in rotation locations. Clinical directors like our students because we work hard, have strong bedside manner, and we become successful specialists, directors, authors, and professors.
SGU gave me an opportunity nobody else did- an education, a future doctorate, and achieving a dream I've had since age 3, simply because they have more space to accept more students. We have such a wide variety of students- moms, dads, couples matching together, career changers, ages 20-50+, international- all with a unique story but the same goal.
To close, it's hard work. Consider your personality and if you get homesick easily. Consider your finances (and check out the NEU-SGU Scholarship!). It's no walk on the beach but neither is any other medical school in the world. So, follow your dreams and let's become a doctor. See you around, colleague!
And please reach out if you have any questions! I sure did.
Yours truly,
Katerina, NEU Class of 2019, SGU Class of 2024