Alumni Reflections: Applying…and ReApplying! by Kyle Nameth, '20
Introduction
Contrary to what some blogs, professional advising companies, and pre-med influencers on Instagram will tell you, the path to medical school is not concrete. Just like practicing medicine, the road to medical school is just as much an art as it is a science: there is no one activity, GPA/MCAT split, or personal statement that will guarantee your admission to medical school. All of this freedom with very little guidance may be anxiety-inducing, but I promise you: this freedom is a fantastic thing. In fact, I think having this freedom makes the entire process significantly easier! Since there is no set path, you can be flexible with the planning of your pre-med résumé. Better yet, you can inject your personality into your activities and craft an application that truly reflects who you are as a person. Although you do have a lot of creative liberty within this process, there are some specifics to keep in mind while planning out your pre-med journey to ensure you are the best applicant you can be. Use this guide to help you from day one of freshman year through to matriculation into medical school!
Building Your Application
A majority of your pre-med career will occur before you apply to school (shocking, I know). I don't want you to think that everything you do before applying is to just bolster your application to medical school; that'll make writing about your experiences very difficult and it's also very disingenuous. Rather, I want you to find activities that fit a few general categories that you enjoy doing, medical school or not. Not only will this make the "requirements" feel less like "requirements", but your genuine interest will shine through your application and you'll genuinely enjoy the activities you do.
Below, I'll detail some of the major categories that you should consider participating in at least once during your journey:
GPA:
Now, I know this isn't an "activity" in the sense that it is an extracurricular that you have to plan out and have hours in, but I want you to treat it as such. You should commit a large chunk of your week to studying, doing homework, attending office hours, whatever is going to help you achieve a solid understanding of the material. Knowing the material will lead to good grades and even better, a solid base for MCAT studying. That being said, you don't need a 4.00. Do your best to set yourself up for success, but a few C grades will not automatically tank your chances!
The way schools evaluate your GPA is a very foggy area in this whole process. We have some data about acceptance rates with GPA and schools do publish GPA statistics through MSAR and on their own websites. However, there are a lot of different thoughts on how GPA is actually evaluated by admissions committees. Some say it's just the last X hours of your degree, others say your cumulative and science GPAs matter equally and are evaluated equally. Things get even more complicated with post-bacc, SMP, or regular Masters degrees. Honestly, I have no clue what schools consider. The best info about GPA's importance is looking through published AAMC data, like this chart, or through data published in MSAR (more on MSAR in the "Time to Apply" Section).
My Advice: I think the truth of the matter is that each school is different, and each school looks at GPA differently. We, as applicants, don't know for sure how committees look at our grades. More importantly, we don't know how heavily each school weighs our GPA in the process as a whole. At the end of the day, don't stress about needing a certain number, just do your best throughout your courses. I highly suggest finding good study habits that work for you early in your degree (this may take some trial and error!) and making your academics a top priority whenever possible. Remember, you are a student first! Of course, there will be times when you simply can't make school a priority, and that's okay, too! A few poor grades will not automatically ruin your chances and they show that you are, in fact, a human being: not a stat robot.
Shadowing:
Shadowing just refers to watching a doctor perform their job in a day-to-day capacity (you act as their "shadow" throughout the day). You'll see some patients, talk about diseases with the Doc, all good stuff. You should not be doing other things while shadowing, though. For example, if you are a medical assistant and you happen to be in the room with the patient and physician, that should not be counted as shadowing hours. The only responsibility you have as a shadow is to observe and follow the physician. On that note, since you want to be a physician, you should be shadowing a physician (MD or DO*). It may seem silly to clarify, but the "Does watching the NP/PA/PT/RT/ABCDEFG count as shadowing?" always comes up. While you need to shadow a physician, it does not matter what kind of physician you shadow. It would be great to shadow someone in a field you're interested in, but it's certainly not a necessity.
*: If you plan on applying to DO schools, some DO schools (and your pre-health advisor) recommend or even require DO shadowing and DO letters of recommendation. Use the AACOMAS Choose DO Explorer to check schools' requirements (it's free, just register!)
My Advice: Aim for 100-150 hours. It's fine to do more, but there are diminishing returns with this activity. There's not a lot that you, as an observer, will be doing, so your time may be better spent volunteering, studying, etc at a certain point. Also, use this time to self-evaluate if you can see yourself pursuing medicine as a career. Don't be afraid to ask your mentor questions to help you reach that conclusion!
Research:
Research is becoming a bigger component for applications, and even bigger if you're shooting for the higher tier schools. I don't know if bench or human subject research is better, or if it even matters. I think the point is to get your feet wet with scientific inquiry. There are two ways to get research: through co-op, or cold calls to professors. Both are perfectly fine, but co-op may be easier to get (and you'd probably be getting paid for it) and research during academic time may be more stress than it's worth. Depending on your major, you may also have a chance to do research during your capstone, which is a big plus, too (but don't count on it being the only research in your app).
My Advice: Get the research experience, but don't stress about getting publications or presentations. It's nice to have, but don't pass up on a topic you'd enjoy studying or a mentor you know well just because it won't end with your name in Nature. If you're really, really set on getting published and/or presenting, your capstone could be a great opportunity to do so thanks to the RISE annual conference, hosted at Northeastern.
Volunteering:
Another big item on most applications is volunteering. This does not need to be a grandiose activity, but it does need to be something you care about. A huge pet peeve of mine is people who join groups/activities/organizations just to put it on the application. I cannot stress this enough: DO NOT BE SOMEONE WHO VOLUNTEERS JUST TO GET HOURS. There are plenty of orgs whose mission, vision, or served population will align with your personal interests and passions. Please please please find a group that you care about and will put 110% effort into.
My Advice: Your volunteering does not need to be clinically related. Boston hospitals have great programs, but they're competitive and have strict commitments. If you're having trouble finding an opportunity, reach out to student groups on campus (like APO, the co-ed service fraternity) during the fall or spring activity fairs, or reach out to various organizations in the Boston area that fit your interests and could use the help. Again, make sure it's a group that you genuinely care about.
A Note about Clinical vs. Non-Clinical Activities
When submitting your application, you'll need clinical activities to list. The best way I've seen clinical activities classified is that it's clinical if "you're close enough to smell the patient". Volunteering or research activities may fit this, but they don't necessarily have to. Clinical activities are crucial to demonstrate your understanding of the clinical environment, patient care, and roles and responsibilities in that setting.
My Advice: Use a co-op to secure a medical assistant position or something similar to crush your clinical hours. In one, 6-month full-time co-op, you can log 1,000 hours, which is well above the average applicant. Clinical hours are probably the hardest to get for an average applicant, but NU's resources give you a HUGE advantage. Use it wisely!
So, that was a brief overview of some of the major items that will end up on your application come May. I consider these "major" activities because I believe every successful matriculant will have strong experience(s) in these categories. Aside from these activities, there are several other categories to pay attention to that may appear in your application. I'll discuss the others a bit more in the "Time to Apply" section, but the ones listed above are paramount to your success.
Below, you can find what my journey looked like for the 5 years of my undergrad career.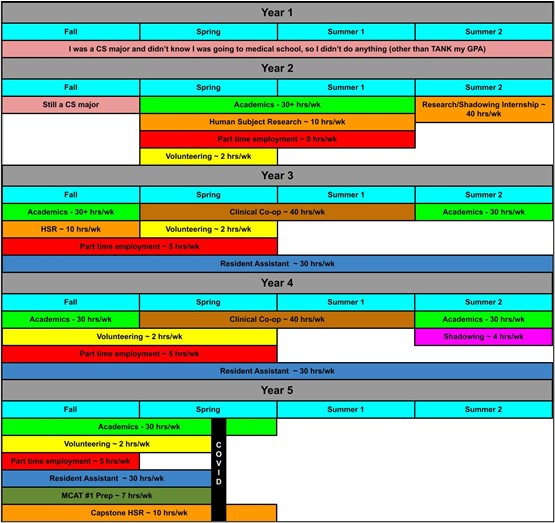 Although the above chart is pretty thorough, I did leave a few things out. First, I was a club sport athlete pretty much all year long for all 5 years; instead of creating a block for every year, I decided to leave it out to reduce clutter. This commitment was another ~ 10 hr/wk or so (less during the summers). Secondly, I did have another volunteer opportunity that I started in high school, continued a bit in college, and returned to fully during a gap year. I decided against including this as well because it was too inconsistent for the purpose of this image. Finally, there were a few of the non-major activities that I listed in my final app, but again, they were inconsistent/randomly dispersed and in the name of clarity, I didn't include them.
I don't want this schedule to look scary or overwhelming. I want this schedule to look doable. Manageable. Encouraging. That's because it is! It is significantly less stressful to space out your commitments throughout your journey. If you do it all at once, you'll certainly burn out, resent your activities, and view them as a chore rather than a mutually beneficial experience. Trust me, my senior year was by far the most miserable and by looking at the above schedule, you can probably tell why.
The hardest part of the above is planning things out and getting started with an activity. Stay flexible and look for opportunities everywhere! Once you get started with an activity, you should be good to go for a long time. Better yet, you should stick with your activity for a long time. The longer you continue with an EC, the less stressful it will be for you to get a significant number of hours and truly contribute to the activity. For example, let's say you want to have 200 hours of volunteering by the time you apply. If you plan on volunteering for 2 hours a week for 2 years, you'll have those 200 hours by the time you apply. You'll also be able to genuinely impact the group you're working with due to the longevity of your commitment. Conversely, if you want to cram 200 hours of volunteering into one semester, you're going to have to commit significantly more time per week which may translate to a much more difficult semester and a much less impressive activity. If you can continue an activity for an extended time, I highly recommend doing so.
Taking the MCAT:
Probably the biggest source of anxiety for pre-meds is planning, studying, and taking this beast of a test. Although this should ideally happen before you apply, I decided to give it its own section because there is so much to discuss with this test. Similar to your GPA, a lot is circulating about the MCAT, especially multiple attempts. Some schools super score your tests, others average them all together, it's all a mystery. Regardless though, you'll want to do the best that you can whenever you take it. This isn't to say that you can't take it multiple times, but coming from someone who did take it more than once, I would have rather been one and done.
Just like the GPA, use the AAMC table to gauge the success rate with various MCAT ranges.
I highly recommend treating the MCAT as a 6 credit course (at least) and scheduling the prep for it accordingly. If you're already taking 20 credit hours while still fulfilling EC commitments, you may want to push off your exam until you have more time to devote to the test (a personal lesson learned the hard way). Some people like to study when on co-op so they can focus on just one "school" thing at a time, while others plan their semester's classes with the MCAT in mind so they have extra time in the day. I've done both, and they both have advantages and disadvantages. You may have more academic bandwidth during co-op, but it'll be pretty isolating because most of your free time out of work will be dedicated to studying. You may have more flexibility during academic time, but you may not have enough mental endurance to get through normal course work + the rigors of MCAT studying.
Preparing for the test:
There are two phases for successful MCAT prep: the content study period, and the test study period. I think 4-6 months is an adequate time to get ready for the exam, assuming you're doing 5-10 hours of prep per week. 4-6 weeks gives you enough wiggle room for days off, extended review of difficult topics, and habit forming without burning you out. Too much time studying may lead to burnout, while too little time may not allow your brain to fully digest the concepts and strategies needed to do well. Of course, everyone is different, so it's highly individualized.
The first phase, the content study period, focuses primarily on studying or reviewing content. By the time you start your prep, you should have taken all of the necessary classes that will show up on the test. Do NOT go into the test without taking a course and expecting to teach it to yourself during the content period. It can be done, but just because you can do something doesn't mean you should. Since you have taken all of the pre-requisite courses, most of this content studying should be review. It's okay if you have to relearn material, that's totally normal! This is the time to figure out what you know well, and what you need to consistently review. Be honest with yourself and hold yourself accountable for those topics you don't know well; it'll pay dividends on test day. This is also the time to adjust your studying to figure out what works best for you. Do you learn from videos? Flashcards? Practice problems? Allow yourself to experiment and make mistakes to find how to best learn and retain this info. This specific review should take the first half of your dedicated studying time. You'll be doing content review the whole time to ensure you're 528 ready, but the bulk of it should occur in the first half; you'll only be doing content review in the second half when you get things wrong.
Once content review is over, you move to the test studying phase. During this time, you do practice questions, take practice exams, and literally learn how to take the exam. Since this is a 7.5-hour exam, learning how to pace yourself and building up the mental fortitude to sit for the exam is an undertaking in and of itself; don't underestimate it! You'll be using unofficial practice materials (like Kaplan, UWorld, JackWestin, etc) for the first portion of your questions and official practice materials (like AAMC full-length tests and section banks) in the final few weeks before your test. While doing questions, you should also keep track of what you get wrong and why you get it wrong. Doing this allows you to review material that you need to brush up on so you don't make mistakes multiple times over.
Below is a recommended schedule that I think works well to get you ready. Keep in mind, the "how" you go about each of these items is subjective; I liked using a premade Anki deck for content review, 4 Blueprint Full Lengths (FLs), UWorld, and JackWestin for third-party questions throughout months 2-4, and AAMC FL 1-4, AAMC section banks for CP, BB, PS, and AAMC CARS question banks for the official prep in month 4. You can find a lot of info online about studying and you should make a decision based on what helps you study effectively.
My experience with the test:
When I studied for my first attempt, I planned on going through Kaplan review books while making my own flashcards during a slow summer so I could use them throughout the year. Then I would go through the books a second time with my cards during the fall, and finally, do questions and practice materials during the spring semester. A major life event turned this whole plan sideways for the summer, so I didn't actually start studying until the fall semester. When I was doing my content review in the fall, I was not honest with myself; I was too focused on getting flashcards done that I didn't actually learn anything that I was writing down. I also just didn't study as hard as I should have. At the time, I didn't think anything of it, but when I started doing questions, my weaknesses showed. UWorld is a hard question bank to work through, but I was still getting more wrong than I had wanted to. Furthermore, I wasn't doing enough review of the questions I would get wrong, which meant I was getting multiple questions wrong regarding the same topic. When it came to practice full-lengths, I was scoring in the 502-507 range, which was much lower than my goal based on those GPA/MCAT charts.
It became overwhelming and demoralizing. I was burned out and I grew really averse to studying. Not only was it hard to study, but it took over my life. I was irritable and stressed all the time. I felt like I always had to be studying, and that led to further burnout. However, I was also too stubborn to quit on myself. I didn't want to have to push back my application a full year and restudy for the test! As luck would have it, I was also doing all of this prep during the build-up of Covid, so I didn't want to risk postponing my exam because I wasn't sure I'd be able to retake the exam before applying. I took a chance and decided to sit for my exam, feeling uncertain in my abilities. I left the exam a mess, magnified by the chaos that was mid-March 2020. A month later, I received my score and was underwhelmed. It was slightly better than my practices, but I wasn't very happy.
In hindsight, I do not recommend this at all. You should feel confident and ready going into the test, not like you're just hanging on by a thread. If you do feel like you're unprepared come test day, breathe. Seriously and honestly self-reflect on whether taking this test is what's best for you in your current state of preparations. Had I done so, I probably wouldn't have taken the exam when I did. I promise you, taking the extra time to get your feet under you and feel ready will do a world of good for not only your score but for your emotional and mental wellbeing as well.
Ultimately, I decided to retake the exam after an unsuccessful application cycle. The second time, I used a premade Anki flashcard deck to help with content review. I also paid more attention to the questions I was doing, and I felt significantly better going into my second test. I still left the testing center emotionally and mentally disheveled, but I scored significantly better the second time around and I think I owe my acceptances to that score bump.
The moral of my story is that the MCAT is a test of your will, determination, and self-reflection. Sure, you're graded on science and reading principles, but the power of you is still the determining factor. You have to put in the work to review content. You have to make sacrifices to ensure you cover everything you need to. You have to look inward to make sure you don't lose yourself in the stress. There will be times when you have to push through and grind, but make sure you are still kind to yourself during this process. Treat yourself to a nice meal after a full length. Exercise while doing flashcards. Hang out with friends on your off days. Do not let this test consume you! At the end of it all, people with all sorts of scores get into medical school. You are more than the number that you receive a month after the exam! This is just one of the many facets of your application, and showing your personality and your dedication through activities goes a long way, too.
Time to Apply
You've been studying hard, you've been able to join some really cool groups, and now you're ready to create your application. You're turning into the home stretch, but don't coast during this part! There is still plenty to do before your fate is up to the schools.
Letters of Recommendation
Your letters of recommendation can be stressful because it's out of your hands. This is where attending office hours throughout your academic career will come in handy. You don't need to be best buddies with your writers, but it helps if they know who you are and recognize you. Reach out early (think December or even November) to ask if they'd be okay with writing a letter for you. This is pretty early, but it gives you time to find someone else if need be. The pre-med office will guide you with regards to which type of writers you need, but I would suggest having at least 1 person who could speak to your clinical professionalism write you a letter.
Activities
In your application, you'll be able to list up to 15 activities that can fall into various categories. I talked about the major ones, but everyone's path is different. This is the section to really let your personality and life outside the classroom shine. Quality activities are certainly better than filling out all 15 spots, so think hard about what you want to include in your overall story.
Writing about your activities is tricky. There is no one way to do it, and no one really agrees on what to do. Some say keep it to bare responsibilities, while others encourage you to use the space to write stories about your activity that showcase skills needed in a physician. I think it can be both. If it's a common position, like a medical assistant, the committee members probably know what you did. This is a good place to share a story as to why this activity makes you want to be a physician or its impact on you/your impact on them. If it's an uncommon activity, like volunteering with a group whose mission/purpose may not be widely known, share a little more about what you did in that position and what it meant to you.
As examples, here is what I wrote for my RA and Research activity descriptions:
RA:       Each year I was directly responsible for 30 to 40 freshman residents in my living and learning community, which was a themed community within the larger residence hall of 350+ residents. During the year, I would work with other RAs and campus and community partners to plan programming for students that would teach career development, cultural competency, and emotional wellbeing. Additionally, I would be on duty for 12 to 24-hour shifts at a time, during which I would enforce policies and provide support to residents that were in need. My role as an RA broadened my worldview as I learned from fellow RAs and residents alike to build an inclusive community that welcomed all incoming residents.
Research:         I examined the efficacy of an ergonomically designed truck seat that was designed to reduce whole-body vibrations in truck drivers. I started as a volunteer and I was promoted to project lead in the fall of 2017. During an early conversation with my supervisor, we discussed personal accounts from study participants. Sleepless nights and back problems often led to substance dependence and poor overall health. The drivers felt trapped in a career that was slowly robbing them of their health. These testimonials constantly reminded me about the importance of my work and they continue to motivate me to address health concerns that may not always be solved through pharmaceutical intervention.
Not Ernest Hemingway quality writing, but you get the point.
You'll also designate the 3 most meaningful activities out of the ones you list. These are the most meaningful to you as a person. Do NOT pick activities you think admissions wants to see, because they'll see right through it. You should use all 3 spots but they can be on anything that you deem fit (one of mine was a club sport and had nothing to do with medicine specifically). For the activities you deem most meaningful, you'll have extra space to write about your experience. I highly recommend using the first reflection area to list roles and responsibilities and then using the extra space to "tell stories" or reflect on the impact of the activity on you.
My advice: I used all 15 spots in both of my applications, but in my first application it was a stretch that I probably didn't need to make. After a gap year, I had enough to comfortably fill out all 15. My point is, don't force it if you don't need to because it will look forced.
A common theme when I put together my application the first time was that I pandered hard. I did everything with the intent to woo the committees and by doing so, I took my personality right out of my application. My second application had much more of my personality throughout and I think it helped quite a bit.
Personal Statement
Your personal statement is really hard to get through. You'll want to spend ample time drafting and reviewing your statement because writing your "Why medicine?" takes many passes to get just right. I would recommend starting in Janurary before you apply in May and devoting a few hours a week to writing it. It may seem like overkill, but I promise the more time the better!
I cannot recommend this book by Dr. Ryan Gray enough. It walks you through your drafting process and shows you various examples, with a very healthy amount of non-trad and military stories, too.
My advice:  There's a saying somewhere that only about 5% of personal statements are standout and actually improve your application, while 80% are average, and 15% are so bad they reflect poorly on you. If you are genuine and honest with your story, you will be in the average category, possibly the standout one. But if you write to try and stand out, you'll probably end up pandering and fall into the bad category. Just write genuinely about yourself and don't stress about making it perfect!
School List
On MSAR, you'll be able to view all sorts of stats for each US MD school, like MCAT percentiles, interview and acceptance rates, and even ages of first-year classes. Finding schools that you would be competitive for is the name of the game here. If you have limited volunteering hours, Jesuit schools like Georgetown or Loyola are probably reach schools. Meanwhile, if your MCAT and GPA are above the 75th percentile for a school, that's potentially a safety* school. Pay attention to in-state vs. out-of-state friendly schools too, as these may greatly help or severely reduce your odds at certain places. DO schools have a similar website in the Choose DO school explorer. It is much less data-dense, but it's invaluable in helping create your DO school list.
Building a school list is very individual and so it's hard for me to make sweeping suggestions. The only things I would recommend to everyone is to
apply very broadly and to as many schools as financially possible, and
include DO schools in your lists, no matter how sure you think an MD acceptance is.
Otherwise, refer to your advisor for guidance based on your specific considerations, or reach out and I'd be happy to help!
*: I don't think there are safety schools in this game. No one is guaranteed to get in at a certain school, so assume every school is a target at best.
Submit that application!
You've done it! If you're here, then you've got everything squared away, and you can finally submit your application. Apply early, but don't rush it. Give yourself a pat on the back and celebrate!
While you may feel like you can finally end all of your previous commitments because you submitted your application, DON'T! You want to continue with your current activities and maybe even add a few. Unfortunately, anything can happen and acceptance is not guaranteed. If you quit everything now and don't get in, you'll face a difficult reapplication cycle because you have nothing to show how you've improved since applying last time. If you continue doing your activities or adding new ones, you'll have something to add to your reapp that shows improvement since your last application.
Now that you're done with the application, you've gotten to the homestretch. The last thing to truly plan out are your secondaries.
Secondaries
Once your application is submitted, take a week or two off. Just bask in your accomplishments and hard work. When you come back to the computer, you've got secondaries to write! People despise secondaries because they genuinely do take a lot out of you. Doubly so if you go into it unprepared. Since you're reading this though, you won't be unprepared!
Your secondary application is a school-specific application that each school will send you. Most of these applications ask for some basic information along with supplementary essays you need to complete. Do not wait until the day you receive a second to start writing your secondary essays. Oftentimes, you'll be receiving many of these applications in very short succession and it's "recommended" that you complete and submit your secondary within 2-3 weeks of receipt. You will not have enough time to write quality responses in the allotted time if you wait. That's where pre-writing comes in.
Previous years' prompts are generally logged online. Just google "X school of medicine secondary essays 202X" and you should find the prompts easily (this is the one and only time I'll promote Student Doctor Network. This site does a great job cataloging each years' essays at the beginning of each school-specific thread). I recommend starting with schools that keep the prompts similar each year. I also recommend bouncing around from school to school to spread your effort around to multiple schools; you never know who will send you something first!
Schools will often use similar prompts, such as asking about your diversity, the adversity you've faced, gap year plans, etc. Because there is a lot of overlap, essays can and should be repeated for the different schools. I don't recommend a straight copy-paste in most cases, but the framework or major stories can stay the same for different schools. This helps cut down on time spent, but it also means that these recurring essays should be pretty polished when you submit them.
After your last secondary is submitted, you're pretty much done! Now, you wait for interviews and hope for the best!
Interviews
This is possibly the easiest part of the whole process. Everything you've done up to this point was to get the interview. Once you're here, just be yourself and have a conversation with the interviewer! They're already interested in you, hence the interview; now you just seal the deal! Definitely use your pre-med advisor to mock interview and ensure you are good to go for the real deal.
Interview season runs from early Fall until late Spring, so do not worry if you don't have interviews by Labor Day. Your patience will be tested, but have faith in the application you put forth and trust that you will hear good news from schools that excite you.
When a reapplication is necessary
Unfortunately, medical school acceptance rates are abysmally low. On average, only ~40% of applicants are accepted; it's statistically more likely that you won't get in than you will get in. I don't mean to bring this psych you out, but to offer you solace. If you did not get in this year, 60% of your peers didn't get in either! It's incredibly difficult to get into medical school and you really should be proud of getting to the application stage to begin with. That being said, you aren't crazy for wanting to try another cycle, or two, or three… you get it. Here's what to pay attention to.
When do I decide to reapply?

This is largely subjective, but typically by the start of the new year. Anytime from May-Thanksgiving, you should just hold off and wait to see how things shake out. If you get to Thanksgiving without any interviews, you should think about whether you want to reapply or not and what you need to do to better your application. By New Years, you should definitively decide one way or the other to ensure you have enough time to rewrite your PS, retake the MCAT, etc.
How do I reapply?
Reapplying requires a tad extra work. The first step, in all honesty, is emotionally coming to terms with reapplying. It is hard to go through the process the first time. It's even harder to gear up to do it a second time when you feel like nobody wants you. I completely understand that feeling and I've been there before, but you can do it!
Once you come to terms with reapplying, you have to be critical of yourself and your shortcomings, but realistic with what you can change. It's hard to boost your GPA if you're not currently enrolled in school, so while that aspect might need some help, it might not be reasonable to actually change. Alternatively, if you only had 15 volunteering hours, those are fairly easy to find throughout the year and could certainly improve your app significantly. Determining what you have the power to improve and how to improve it can be done pretty early on, but it takes the most effort. Don't be afraid to seek out guidance from your advisor, any mentors you have, or even schools that rejected you (some, but not all, will offer suggestions on how to improve your application after you've been rejected). Again, ideally, you would have continued or even started new activities since your application in May. If this is the case, you'll have another year's worth of stuff to add, which should help improve your application.
One thing you should definitely change up is all of the writing you did in the last application. You can resubmit your previous application without changing your writing, but that may come across as lazy and it probably won't help your application anyways. After all, it didn't work the first time, chances are it won't work a second time. If you really think all of your writing is top tier, then feel free to keep it, but there should be some pretty large improvements in other areas to compensate.
Another thing to examine is your school list. Did you apply MD only when you would be competitive for DO? Did you apply to more low-yield schools than you should have? Did you apply to all of your state schools? School list creation is tough, but it might be another source of improvement that will lead to success in a different application cycle.
My Story
I've talked a lot about general tips, but it's important to put in into context. I write about everything in-depth because I've learned a lot from my experiences and I want to share that knowledge with others. I began my undergraduate career as a Computer Science major. For a variety of reasons, I realized that I was in the wrong place and I really wanted to be in healthcare. I did not, however, know if that was as a physician. No one in my family is involved in healthcare, let alone as a physician, so I started down this path completely blind. I began researching what I needed to do to get to medical school, and I realized I had put myself in a bit of a tough spot. I started pre-med courses with a 2.9 GPA, I didn't have any extracurriculars worth noting, and I didn't even know if this was something I wanted to commit to! There were a lot of restless nights and breakdowns during that fall semester. Ultimately, I decided to go all out: do anything and everything to set myself up for success, and if it works out, it works out. If I fall short or if it's too much in too little time, I recalibrate and try for something else.
That drive continues to serve me well, but it was a huge boost in these early days before I had my feet under me. I made academics a priority during my first pre-med semester, and my grades improved greatly. I also wanted to get involved with research since I could see myself doing that as a career as well. So, I cold-emailed professors. I literally went to the Bovué faculty website, started with "A" last names, and emailed professors whose work seemed interesting. Thankfully, I only had to get to "De" before I got my first opportunity. Additionally, I was invited to join a volunteer group that I wanted to join before I planned on switching majors, which worked out nicely. Before I could blink, spring semester was over, I had started building my pre-med app (if I even wanted to do that when I graduated), and most importantly, I was so much happier. I didn't realize how rough I was freshman year until I had something to compare it to. I left for the summer break filled with motivation, passion, and excitement.
In addition to emotionally feeling better, I felt like I had a solid strategy in place. If I chip away at these requirements bit by bit, year after year, they aren't as intimidating as I initially thought they were. This revelation, in addition to the summer internship I did back home, solidified my decision to pursue medical school. From my third year on, I put my head down and got to work. It was easy on paper, but would it be easy to execute? Oh, absolutely not!
My third year brought me my first broken bones (and first major surgery to boot) and some challenging lifestyle situations as I adjusted to the RA role. Fourth-year saw challenging courses and a significant life event that not only challenged my pre-med path but changed my life forever. Fifth-year stretched me far too thin and, honestly, broke me. My constant go go go lifestyle of years past eventually caught up to me and, with a variety of outside factors further draining me, I couldn't keep up. Before I knew it, I slammed headfirst into burnout and found it hard to keep performing. The problem was I couldn't stop. I had capstone, MCAT, a job search, the AMCAS application; essentially, the culmination of everything I've worked on for the past 5 years all at once. As a result, I put forth some really, really subpar work, including the MCAT and AMCAS.
When I took my test and submitted my application that first time, I said "Good enough". I literally did not have the emotional bandwidth to care more and I regret pushing myself to that extreme. In hindsight, I should not have been so stubborn: I should have pushed off my exam and probably my application as well. Regardless, I was hoping I would get results. Shockingly, I did not. It took most of the fall of my application year to come to terms with how unrealistic my expectations were and how serious the reality of the situation was. Email after email was a rejection, and although on the surface "it doesn't bother me", it subconsciously wore me down. To feel like everything was for nothing stung. Badly. During the holidays of 2020, I think the fog finally lifted. It was the first time in over two years that I had nothing to do. No work. No studying. Nothing.
That break was what I needed to relight the fire under my butt and get my s**t together. I started studying for an MCAT retake using different methods. Content clicked. I started reading into how to write a proper personal statement. My story flowed. Even though it was stressful in its own right to work full time, reapp prep in my free time, and have no outlet to destress thanks to Covid, things felt much better this time around. When it came to take the test and submit my app, I didn't feel bad about them. I was cautiously optimistic. Cautious because I know how unpredictable the cycle is, especially with Covid. Optimistic because my "Why medicine" essay was coherent and my MCAT improved significantly. I did a much more thorough dive through MSAR and took a meticulous look through my secondaries to improve them.
As of writing, I have received a total of 3 MD and 3 DO interviews, and 3 of those interviews came within the past 3 weeks (in LATE MARCH!). I share my story to try to encourage you to persevere through it all. Do not give up when it gets tough. Do not give up when things look bleak. Do not give up. If this is what you want to do with your life, this is your sign: Do. Not. Give. Up. You can take a break, you can reset, you can try a new approach, but do not let this process win. It's cruel, demanding, and draining, but you are more than the numbers that you submit. You have so much to contribute and your story isn't over because you got a C in Orgo or because you didn't get into school this year. I believe in you, your friends and family believe in you, now I need you to believe in yourself.
Kyle Nameth, '20