What Can I Do Around Campus?
It is finally spring in Massachusetts, and Northeastern students and faculty are coming out to enjoy the warmer weather after months of ice and snow. Rather than being cooped up inside all day, there are plenty of fun outdoor activities for you and your friends to do right on Northeastern's campus if you don't feel like straying far from home. Here are some of my favorite things to do: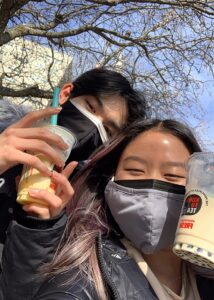 Boba runs: Do you like this popular tea based drink that has chewy tapioca pearls in every sip? If so, you're in luck. There area couple of great boba shops to stop at close by, including Chatime (Huntington Ave), Kung Fu Tea (Mass Ave), and Vivi Bubble Tea (Mass Ave). Kung Fu Tea and Chatime solely offer drinks, and Vivi offers a variety of foods along with their boba on their menu from popcorn chicken, takoyaki, crepe cakes, and other appetizers and desserts. From my experience, Kung Fu Tea is the most popular place nearby for students to get their boba from, and I personally love their Honey Oolong Milk Tea.
Picnic in Centennial: On days where the sun is shining and there are hardly any clouds in the sky, you can find me along with tons of other students all congregated at Centennial Quad to hang out with friends, eat lunch, attend online classes, or do work on laptops. I've even seen some students playing guitar and singing, setting up and relaxing in hammocks, and tossing a frisbee with one another. It's common to bring a picnic blanket to Centennial and just lie down in the grass. You can bring food and enjoy the nice weather, and if you like animals, you might even be surrounded by the local geese, but be careful of them stealing your food and pecking at your belongings! I really enjoy the     days where everyone is outside because it feels super lively with good vibes on campus.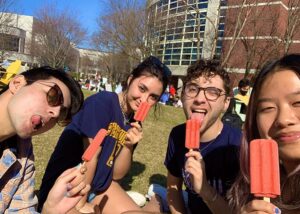 Recreation: For more active activities for those who like to get out and get some exercise, Carter Field is the perfect place to go.  You can play games of soccer, spikeball, sharks and minnows (lol), or throw a frisbee around. There are also a couple of tennis courts to practice on and play games with friends. I like having mini soccer scrimmages or just kicking a soccer ball around. Additionally, if you are into skateboarding, the whole campus can be used as a skating ground. You can practice in parking lots, parking garages, or just skate along the streets.
Visit a Museum: If you enjoy art, I would recommend going to the Museum of Fine Arts (MFA), which is practically right on campus. It's a huge museum that features art from all around the world and hosts several special exhibitions set up for a limited time. The MFA has free general admission to Northeastern students and faculty with a promo code, which is cool since you might not be able to view everything in one visit. Some of the traveling exhibitions might cost money, but they aren't too expensive. I spent five dollars to see the Basquiat and the Hip-Hop Generation gallery. The Isabella Stewart Gardner Museum is another great option for art lovers. It is a little further away from campus (about a 10-15 minute walk), but I wanted to include it because it has an extensive collection of art and has beautiful gardens and architecture. Admission is $13 for students, but if your name is Isabella like me you can get in for free hehe.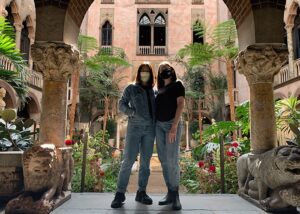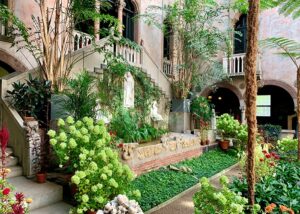 Movie Nights: At night when it gets dark outside and the temperature drops, it is always fun to hang out in some of the classrooms on campus or in the dorms to play games (like cards or bananagrams!), watch movies, eat snacks, etc. I love organizing sleepovers and movie nights with friends in my dorm. It's also nice nowadays to do this since students are allowed to bring a guest into their dorm building.
This list is just some of my favorite activities that I've done on campus throughout this year. It's been tricky to do most things because of COVID-19, but there are still things you can do safely and that are a lot of fun. I hope you enjoyed reading this post and hope it gives you a couple of ideas of things to do right at Northeastern! I hope you like the pictures too 🙂