The PEAK Experiences Base Camp, Ascent, and Summit Awards allow students to apply funding toward stipends or wages for the time they spend engaged in their research or creative project. (See our flowchart (pdf) and interactive decision tool for guidance on the difference between stipends and wages.) Whether the source is a PEAK Experiences Award, federal work-study funds, a faculty member's own research budget, or some combination of these, the process of paying students a wage involves using Northeastern's online student employment system to create a position, hire the student, and approve their weekly timesheets. Here is some guidance on how this process works.
If you don't yet have an account for the Office of Student Employment, Graduate Assistantships, and Fellowships' online system, begin by registering for one. From the Student Employment homepage, select "Employers & Administrators," then select "Request log in permission." Note that this system is not accessible via MyNortheastern, but requires a separate login procedure.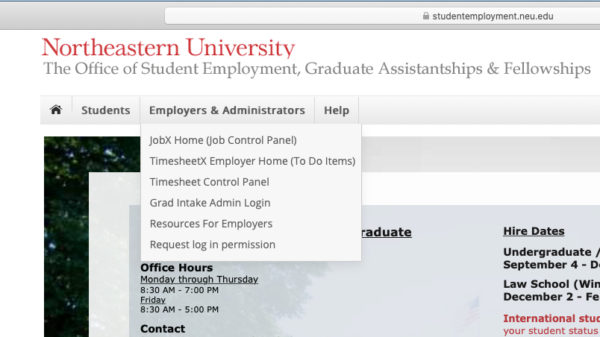 Next, select that you are an on-campus employer, then complete the registration form. Once you are approved as an employer and receive your login credentials, you can continue the process of posting a position and hiring a student.
To create a position, select JobX Home (Job Control Panel) from the Employers & Administrators menu.
On the JobX Home screen, you will see a list of any previous jobs you had posted. To create a new position, click the "Add a new job for" next to the name of your unit.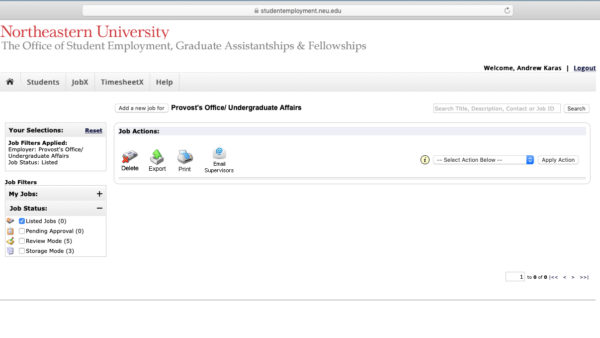 This takes you to a screen where you will create the description of the position. It is important to complete this form as accurately as possible, even if you only intend to hire a pre-determined student and not to advertise the position publicly. Completing this form does not mean that you need to advertise and collect applications for the position. Once the job is approved, you can hire your pre-selected student immediately, even without them having completed an application for the job. If the student has indicated that they are eligible for federal work-study, you may select this box under "Apply Funding Source(s)." Otherwise, select "General Northeastern Student Employment."
Once the job has been approved, you may immediately move it to "Review Mode." "Review Mode" means that students cannot see the job posting, but you can still make hiring decisions. To switch a job to "Review Mode," click on the job title on your JobX Home screen, then click "Review Mode" in the "Update Status" box:

Then, within the Manage Job screen, you can click "Hire Student." If you have a pre-selected student in mind (e.g., a PEAK Experiences Award recipient), use the "Hire a walk-in candidate" option. The student will not need to apply for the job. You simply search for their name and NUID and hire them:
You will be asked to provide the six-digit index number from which payments will be withdrawn; be sure that this number matches the one to which you requested that PEAK Award funds be deposited.
The student must complete an I-9 form verifying legal employment eligibility with the Office of Student Employment, Graduate Assistantships, and Fellowships before the start date of the position. Students cannot begin working or being paid until their I-9 is complete.