Student Profile
Tyler Hall
Mechanical Engineering, College of Engineering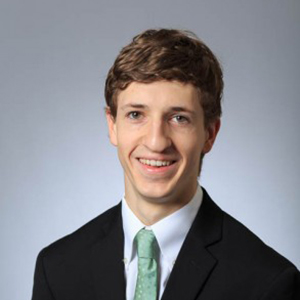 About
Tyler Hall, a mechanical engineering major, was Northeastern's first recipient of the Udall Scholarship. Tyler engaged in environmental issues both academically and through extracurricular involvement. As a first year student, Tyler worked with the Boston Natural Areas Network on a research project that helped create the foundation for the "Growing Boston Greener" project which planned to add 100,000 trees to the Mattapan neighborhood by the end of the decade. Tyler worked to engineer novel wind technology and at Tesla Motors. In addition to co-op, he worked as a researcher in the Sustainability and Data Sciences Lab and with Engineers without Borders.
As an Udall Scholar, Tyler was one of 60 students nationwide given a scholarship to work on issues related to American Indian nations or the environment. Tyler traveled to Tucson, AZ to work with other Udall Scholars on a case study, learn new ways to collaborate, and build a community with Udall alumni, current scholars, and professionals working on environmental and tribal issues.
Tyler's Timeline
Pre NU
Becoming an Eagle Scout
Tyler credits his experiences outdoors as a Boy Scout with creating in him a sense of environmental stewardship.
Year 1
Beginning a Mechanical Engineering Major
Tyler entered Northeastern with the goal of becoming an engineer and dedicating his career to combating climate change.
Year 1
Participating in an Action Outside of Mitt Romney's Campaign Headquarters
In September 2012, Tyler took part in an action outside Mitt Romney's campaign headquarters, demanding he address climate change.
Year 1
Becoming a DivestNU Student Organizer
Tyler was the co-founder and media lead for the fossil fuel divestment campaign on campus.
Year 2
Participating in the National Science Foundation Summer Research Program on Renewable Energy
Following his first year at Northeastern, Tyler participated in an NSF sponsored summer research program on renewable energy at the Missouri University of Science and Technology.
Year 2
Beginning Research in the Northeastern Sustainability and Data Sciences Lab
Working with the SDS lab broadened Tyler's perspective on climate change and gave him a new way of looking at climate policy, adaptation, and mitigation.
Year 2
Participating in a Co-op at Jacobs Engineering
During his internship with this building engineering firm, Tyler learned about implementing energy efficiency measures in commercial buildings.
Year 2
Traveling to Uganda with Engineers Without Borders
The Northeastern University chapter of Engineers Without Borders worked in the village of Bbanda, Uganda for several years to construct a village-wide water distribution system.  In June 2014, Tyler traveled to Bbanda and played a major role in planning and executing trip activities.
Year 3
Participating in a Co-op at V-Squared Wind
Tyler continued to broaden his experience in the area of energy technology at this Boston-area startup, where he developed a novel wind energy technology.
Year 4
Participating in a Co-op at Tesla Motors
Tyler credits his experience at Tesla with helping him to understand the innovation and high-volume manufacturing required to deploy new technologies on the scale necessary to bring about an energy revolution.
Year 4
Earning a Udall Scholarship
Tyler is the first Northeastern University student to earn this honor. He received $7,000 and participated in a four-day conference at the Udall Foundation headquarters in Tucson, Arizona.