Truman Scholarship Nominees Strive for a Healthier, More Just World
This year, Northeastern had the great pleasure of nominating four students for the Truman Scholarship, a recognition for college juniors who are true "change agents," with the passion, intellect, and leadership potential to improve the ways that public entities—be they governmental bodies, nonprofits, educational institutions, or advocacy organizations—serve the public good. This highly competitive, merit-based award funds graduate schooling en route to recipients' careers in public service.
Read on to meet Northeastern's 2021 Truman Scholarship nominees.
Bouchra Benghomari COS'22
Studies: Cell and molecular biology with minors in global health and political science
Hometown: Cambridge, MA
Bouchra's scientific research and policy advocacy are driven by a deep desire to improve the well-being of children in the US and around the world. One prong of this commitment has involved research on the biological origins of disease, including work on the incidence of methicillin-resistant Staphylococcus aureus (MRSA) in nursing students, lung cancer in a lab at the Yale School of Medicine, and Mycobacterium abscessus (a relative of the tuberculosis bacterium) at the Harvard T.H. Chan School of Public Health. On the policy side, Bouchra's longstanding involvement with UNICEF began when she founded and became the president of the UNICEF student club at her high school, Cambridge Rindge and Latin; over the years, Bouchra has served on the UNICEF USA National Council and helped lead a statewide campaign to ban child marriage in Massachusetts. In addition, Bouchra led the development of the Northeastern University Global Health Forum, which helps coalesce the efforts of other global health-focused groups on campus, and she founded Altrusity, an organization that provides college application support to low-income Cambridge students. Bouchra envisions a career in which she will use her research skills, organizational prowess, and advocacy experience to advance the health and well-being of children as a physician-scientist specializing in pediatric infectious diseases and a policymaker focused on children's health.
Rayna Haque Bouvé'22
Studies: Health science with minors in ethics, global health, and health, humanities, and society
Hometown: Holly Springs, NC
Rayna Haque is committed to expanding access to high quality healthcare, especially mental healthcare, to vulnerable and underserved populations worldwide. Rayna has conducted basic research in the Pepperberg Avian Cognition Lab at Harvard; undertaken a qualitative systematic review of the ramifications of exposure to violence on the welfare of resettled refugees; and is currently working at the interface of the lab and the clinic at the Brigham and Women's Hospital Crohn's and Colitis Center. Rayna has complemented her research with an array of direct service, most recently teaching English to refugees virtually because COVID disrupted a plan to do so in person. Serving as a senator in the Northeastern Student Government Association gave Rayna experience building coalitions and advocating for concrete action. In the Academic Public Health Volunteer Corps, a group formed to offer additional expertise and person-power to the Massachusetts Department of Public Health during the pandemic, Rayna has matched her passion for social justice with her scientific training to advance health equity. Rayna is particularly avid about the power of technology to connect communities in need—whether they are across town or across the world—with compassionate care and ample resources through telehealth, something she discovered on co-op at the startup PainTheory. She plans to pursue degrees in medicine and law, taking both clinical and policy approaches to the expansion of high quality, culturally appropriate healthcare.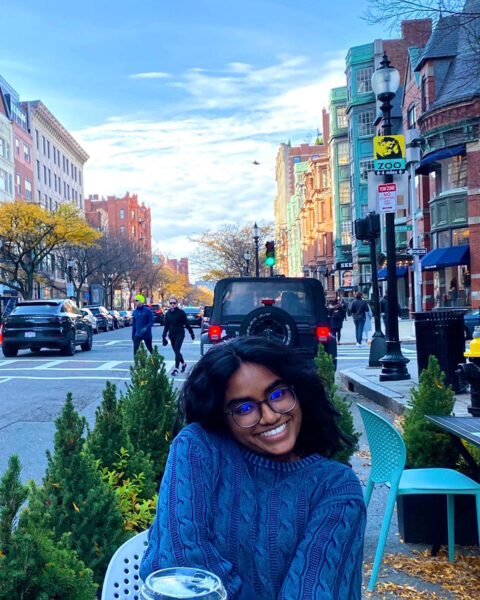 Ramya Kumar COS'22
Studies: Behavioral neuroscience with a minor in global health
Hometown: Bettendorf, IA
As an aspiring physician and policymaker, Ramya's experiences have focused her attention and efforts, in particular, on the ways that racism informs the practice of medicine and the health outcomes of Black, Indigenous, Person of Color communities. During her first year at Northeastern, Ramya worked on a research project focused on creating cyrogels for cancer vaccinations. Ramya has also worked on a project that aimed to characterize the effect of fear on the body and brain and moved into social science research with projects ranging from a study of maternal mortality rates to community-based participatory research focused on adolescent access to greenspace within Boston's Mattapan neighborhood and nearby Chelsea to, most recently, a study of water unaffordability and commodification. These sustained engagements in high-impact research across the disciplines have helped Ramya understand the ways that systemic wrongs, like racism, manifest themselves in particular physiological instances and the bodies, lived experiences, and geographies of individuals. Outside of her research, Ramya commits considerable time to direct service, organizing, and activism. Since assuming the presidency of the Northeastern University Global Health Initiative, Ramya has focused the student organization's work on health equity and justice, including coordinating the Black Health Matters Contact-a-Thon over the summer, which saw 85 students work together to raise consciousness about race-based disparities in health outcomes and as well as raise money: over $36,000 for four organizations from 560 donors.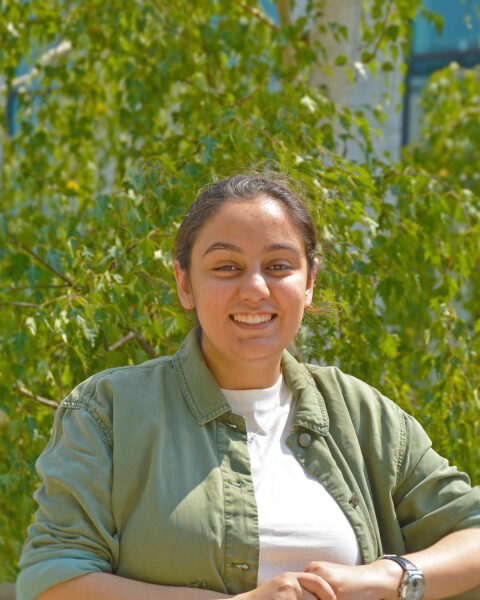 Jeanine Nasser Bouvé/COS'22
Studies: Health science and biology
Hometown: Brookline, MA
An accomplished researcher, an impassioned community advocate, and a devotee to a broadly inclusive and equitable notion of "health," Jeanine is poised to lead us toward a future in which the health effects of historical, structural, and individual traumas are adequately recognized and addressed. Venturing beyond the classroom to conduct important original research at scales ranging from genes to generations, Jeanine has investigated the role of DNA damage repair in antibiotic resistance; the root of racial disparities in breast cancer risk and diagnosis; patient reluctance to disclose health information such as genetic disease, sexual assault or trauma, and mental illness; the impact of racial discrimination, anti-immigrant sentiment, interactions with law enforcement, and Islamophobia on resettled refugees' mental health; the overlap of COVID morbidity and mortality with legacies of redlining and poor air quality in Boston; and, in her current self-developed co-op, the epigenetic implications of prolonged exposure to interpersonal violence, structural violence, and broadly-defined trauma on the etiology of chronic illness, mental health, and maternal-child health in communities of color. A licensed emergency medical technician, Jeanine also embodies her commitment to social justice by working to increase marginalized communities' access to healthcare on a grassroots level, including as a volunteer with The Family Van, which drives into Boston's underserved neighborhoods to help residents navigate complex health and insurance bureaucracies and access necessary care. Jeanine intends to earn a PhD and become a university researcher, continuing her work to document and eliminate health disparities affecting communities of color. Jeanine is a member of our Honors Program.