Three Northeastern Students Earn 2019 Goldwater Scholarship for STEM Research
Three of Northeastern's most distinguished undergraduate science and engineering researchers have earned prestigious national recognition: being named 2019 Barry Goldwater Scholars, the United States' premier award for outstanding young researchers in STEM fields.
The Goldwater Scholarship is a highly competitive, merit-based award for students majoring in mathematics, the natural sciences, and engineering who are interested in pursuing careers in research. It was established by Congress in 1986 to honor Senator Barry Goldwater, who showed a keen interest in science and technology during his 30 years in the U.S. Senate.
Each undergraduate institution in the United States is invited to nominate up to four students for the award annually. After a rigorous selection process overseen by a dedicated faculty committee, Northeastern was proud to forward four nominees for national consideration; earning Northeastern's nomination is an honor in itself.
Learn more about our 2019 Barry Goldwater Scholars below. We also gratefully acknowledge each scholar's faculty mentors, whose guidance is crucial to developing the next generation of leading scientists and engineers.
Gina Duronio COS'20
Cell & Molecular Biology and Mathematics; Chapel Hill, NC
Gina Duronio's research at some of the nation's leading cancer centers has shown her firsthand the importance of collaboration between physicians and researchers for advancing our understanding of disease, while her dual majors in biology and mathematics have revealed the power of combining concrete and abstract analytical approaches to intellectual challenges. Gina's research career began at the University of North Carolina's Lineberger Cancer Center, where she saw how patient-derived genomic data can inform research projects that have direct clinical relevance. On co-op at Visterra Inc., Gina created an antibody display library, and in a subsequent co-op at the Dana-Farber Cancer Institute she worked to determine the novel function of commonly mutated proteins in colorectal and esophageal cancers. Gina is also a dedicated mentor of third- through fifth-grade girls through Strong Women Strong Girls Boston. A member of the University Honors Program, Gina plans to obtain an MD-PhD in molecular biology and specialize in oncology and hematology in order to conduct translational research as a clinician-scientist.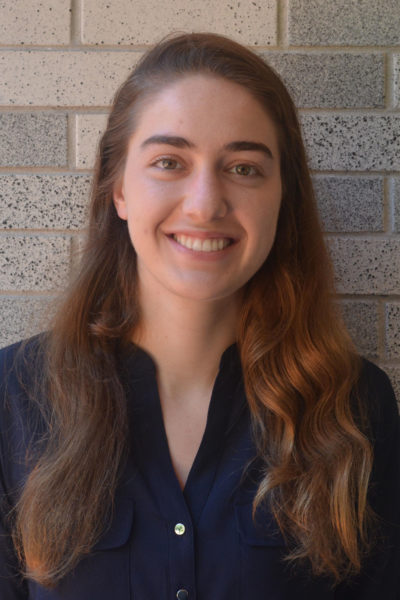 Erica Wagner COE'20
Bioengineering; Johnstown, NY
Technologies and treatments for patients with debilitating musculoskeletal diseases have seen rapid advances in recent years, but are still plagued by complications in drug delivery which can reduce effectiveness or cause unintended effects. Erica Wagner's goal is to engineer biomaterials for targeted drug delivery systems that can sustain long-lasting effects and minimize off-target activity. Erica, a member of the Honors Program, has undertaken several projects related to the development of such biomaterials in the Molecular Bioelectrostatics & Drug Delivery Lab of Professor Ambika Bajpayee. With the support of an Undergraduate Research and Creative Endeavor Award, Erica extended the lab's research on osteoarthritic tissue degeneration from cartilage to the less commonly studied intervertebral disc tissue. On co-op at Visterra Inc., Erica approached research from the perspective of a biotechnology company and worked on glomerulonephritis, the inflammation of the membrane tissue in the kidney which leads to kidney failure. This experience helped confirm her aspiration to work in industry after earning her PhD in bioengineering, continuing her drive for drug development, most likely in coordination with an academic lab.
Claire Williams COS'20
Biochemistry; Southampton, MA
Traditional strategies for conserving endangered species rely mainly on restoring populations through breeding programs and habitat protection. However, as we learn more about the roles of microbes in mediating their host organisms' health and disease, there appears to be great promise in exploring the impact of the microbiome in conservation of endangered species. Claire Williams's goal is to integrate microbiome research and conservation research, studying animals as meta-organisms with complex communities of microbes. Claire began her research career in the lab of Professor Slava Epstein, where she established a microbial culture collection from Arctic soil and began to comprehend the role of microbes in large ecosystems. Supported by an Undergraduate Research and Creative Endeavor Award, her next project involved collaborating with colleagues from engineering, physics, and biology to develop a novel microbial cultivation device. Research conducted in Dublin, Ireland, shifted Claire's interests toward environmental sustainability, and her current project, at Harvard's Rowland Institute, involves studying the microbiome of threatened honey bees. She plans to pursue a PhD in microbiology and conservation and devote her career to restoring and maintaining our planet's biodiversity.