Student "Change Agents" Named Truman Scholars
Two Northeastern University juniors have been named 2019 Truman Scholars, earning the United States' premier graduate fellowship for those who intend to devote their careers to serving the public good. Northeastern's Truman Scholars are Juan Gallego CSSH'20, an advocate for the full representation and participation of Massachusetts' Latinx community in the political process, and Kritika Singh COE'20, an aspiring physician, scientist, and policymaker committed to fighting emerging infectious diseases. Gallego and Singh are among the 62 Scholars selected from a record pool of 840 candidates nationwide, and Northeastern is one of only four institutions to have multiple Truman Scholars this year.
The Truman Scholarship is a highly competitive, merit-based award that seeks to identify and reward college juniors who are true "change agents," with the passion, intellect, and leadership potential to improve the ways that public entities—be they governmental bodies, nonprofits, educational institutions, or advocacy organizations—serve the public good. Truman Scholars have a long and distinguished history of public service. Scholars include U.S. Senator Chris Coons; journalists George Stephanopolous and Jeffrey Toobin; Supreme Court Justice Neil Gorsuch; former Ambassador to the United Nations Susan Rice; former Arizona Governor and Homeland Security Secretary Janet Napolitano; New York City Mayor Bill de Blasio; and civil rights advocate and author Michelle Alexander.
We invite you to learn more about Northeastern's 2019 Truman Scholars.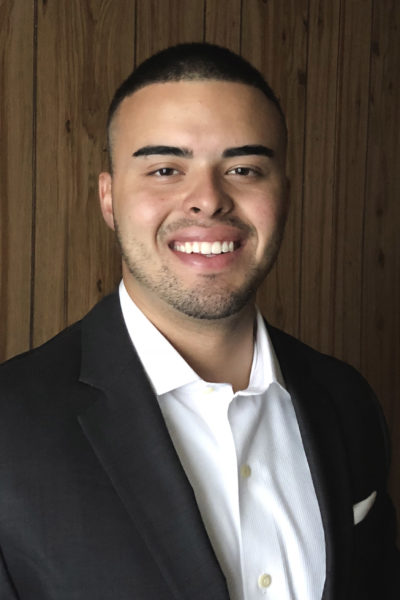 Juan Gallego CSSH'20
Political Science; Chelsea, MA
Juan Gallego's family fled persecution in Colombia when he was seven years old. Coming to the Boston area as a young refugee was not easy. "I have had to overcome many challenges from an early age," Gallego writes in his Truman Scholarship application—but then his characteristic optimism and faith in American democratic institutions shines through: "Fortunately, these hardships have positively contributed to the growth of my character. They have instilled in me a sense of optimism, gratitude, and ambition, not for personal success, but rather to repay the people, communities, and institutions that have helped me along the way."
Time and again, Gallego has purposefully and powerfully done the work of reinvesting in communities and institutions in response to the challenges he has seen. Recognizing that the Latinx community in Massachusetts lags substantially behind other groups in the state on a wide array of social, educational, and financial metrics, Gallego has dedicated himself to amplifying his community's voice through increased voter turnout and representation in elected office. In one example of his tireless dedication, Gallego served as field director for a Massachusetts House campaign in 2018 and knocked on over 5,000 doors, connecting personally with voters in neighborhoods and districts that often feel overlooked.
After several family members experienced racist behavior in his hometown of Chelsea, Gallego pressed the city to establish a Human Rights Commission and became one of the commission's inaugural appointed members. His further work has included deep policy research on topics ranging from nuclear non-proliferation in North Korea to the implications of home-sharing services such as Airbnb on the availability of affordable housing in the city of Salem. Salem Mayor Kim Driscoll notes, "Much of Juan's work became the foundation of a recent city ordinance that was adopted to regulate this new industry in our community." Meanwhile, Gallego's commitment to mentoring young people–and strengthening his community at every level–is also visible in his service as a football coach at Bishop Connolly High School and Randolph High School.
Having worked closely with both Mayor Driscoll and Northeastern Distinguished Professor and former Massachusetts governor Michael Dukakis, Gallego hopes one day to represent his community and all of the commonwealth by running for elected office.
To deepen his analytic and management skills in preparation for this career, Juan plans to use the Truman Scholarship to pursue joint graduate degrees in law and public policy.
Kritika Singh COE'20
Bioengineering; McLean, VA
"My goal is to ameliorate public health burdens at the local, state, and federal levels," Kritika Singh writes in her Truman Scholarship application—and to do this work, she is building expertise at the junction of scientific research, clinical practice, and policy advocacy. Singh's focus is on infectious diseases that are emerging (due to climate-change-driven vector migration, for instance) and/or neglected—that is, a set of diseases common in low-income populations that receive little attention or research funding because of those they impact and the fact that, though they significantly impair human health, they are often non-lethal.
A highly decorated scientific researcher, recipient of both the Thermo Fisher Scientific Antibody Scholarship and the Goldwater Scholarship, Singh spent a year as a research assistant in a malaria immunology lab at the National Institute of Allergy and Infectious Diseases while in high school and, with the support of the Summer Scholars Independent Research Fellowship, has worked for over two years on epigenetics and malaria in the Mazitschek Lab at Massachusetts General Hospital. "Kritika is a rising superstar," says Ralph Mazitschek, the lab's principal investigator. "Her accomplishments are nothing less than outstanding." In one project, Singh has developed a high-throughput screening platform that enables comprehensive and quantitative profiling of epigenetic regulators and their inhibitors. Singh has also been working on a project to understand the target of an older antimalarial drug in order to develop pharmaceutical derivates that will be less likely to create drug resistance.
But Singh, who is a member of the University Scholars and Honors Programs, understands that science alone will not eradicate disease, and in parallel with her research, she has also developed skills in policy and advocacy to turn knowledge into leadership. "Kritika is not only a future scientific leader," reflects interim dean of the College of Science Michael Pollastri. "In a lot of ways, she already is a scientific leader." She founded and directs a nonprofit organization, Malaria Free World, which engages in peer-to-peer education, fundraising, and political lobbying. This work was the basis of her keynote speech at the 2019 Leadership Summit of the United Nations Foundation's "Nothing But Nets" malaria eradication campaign.
Singh has also worked to empower her peers through the Northeastern University Global Health Initiative (NUGHI), which she also founded. She and the NUGHI team earned a Service/Research Project Award to produce one of the largest student-led undergraduate global health conferences in the nation, bringing together a broad interdisciplinary range of students, practitioners, and experts who embodied her collaborative vision for making change.
Singh plans to earn a master's degree in Global Health Science and Epidemiology or Medical Anthropology before pursuing an MD/PhD to prepare her for a career at the intersection of cutting-edge bioscience, translational care, and public health advocacy.