Record Number of Globally-Minded Northeastern Students Earn Fulbright Awards
A record-breaking number of Northeastern University students have earned Fulbright U.S. Student Awards to conduct independent research, pursue graduate study, or teach English abroad. The Fulbright U.S. Student Program is America's premier cultural exchange fellowship. Active in over 140 countries, the Fulbright provides grants for individually designed research, study and teaching opportunities. The recipients meet, work, live with, and learn from people of the host country, in an atmosphere of openness, academic integrity, and intellectual freedom, thereby promoting mutual understanding.
As the awardees' range of disciplinary backgrounds and career aspirations attests, Northeastern's unique emphasis on experience-driven learning with a global reach equips students from all fields of endeavor to propose compelling and competitive Fulbright projects.
If you will be graduating in the academic year 2019-2020 (or are a recent graduate) and want to learn more about applying for a Fulbright award, contact our office today!
We congratulate all of our Fulbright applicants, semi-finalists, and award recipients, and we offer a special thanks to the faculty members who served on Northeastern's internal Fulbright committee, offering intensive mentorship and advice to our applicants. Committee members included Vincent Harris, University Distinguished Professor and William Lincoln Smith Chair in electrical and computer engineering; Tom Nakayama, professor of communication studies; Rebecca Riccio, Khaled & Olfat Juffali Director of the Social Impact Lab; Justin Silvestri, Assistant Director, University Honors Program; Thomas Vicino, professor of political science, public policy and urban affairs; and Liza Weinstein, associate professor of sociology.
This year's Northeastern Fulbright Award recipients are: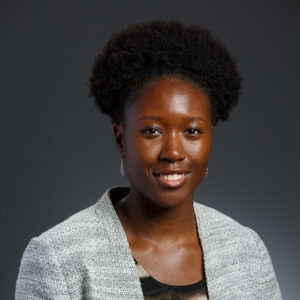 Ngenyi Stephanie Beja CSSH'19
International Affairs; minors in French and Economics
Belgium – English Teaching Assistantship
Stephanie was drawn to Belgium because of a fascinating commonality with her parents' homeland of Cameroon. In Cameroon, where the dominant languages are French and English, linguistic differences mirror ethnic and regional differences, and Stephanie sees a parallel in the political and cultural distinctions among Belgium's Flemish, French, and German speakers. Yet Stephanie views language as a uniter, not a divider, something she came to appreciate while on co-op for four months in Phnom Penh, Cambodia, living and working with university students. In her role there, helping students practice English became the vehicle to find common ground and make connections across cultures. In addition to her international teaching experience, Stephanie also brings to the Fulbright a desire to represent the United States abroad, something she hopes to continue in a career as a Foreign Service officer.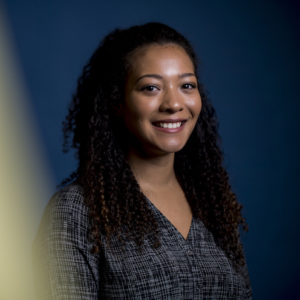 Zoë Bishop COS'19
Biochemistry; minor in African American Studies
South Korea – English Teaching Assistantship
Zoë's intellectual curiosity has fueled her passion for literacy, scientific exploration, and multiculturalism. A fearless extrovert, her love of learning and experiencing other countries took her to a study abroad at Yonsei University, Seoul, where she developed a passion for the culture of South Korea. In addition to excelling in a demanding biochemistry curriculum, Zoë gained extensive experience in teaching and mentoring roles, serving as a peer tutor for fellow undergraduates in chemistry and psychology and a peer mentor in Northeastern's Civic Engagement Program. A member of the University Scholars and Honors Programs, Zoë also turned an analytical eye on intercultural competency, earning a Summer Scholars Independent Research Fellowship in 2016 to study the cultural agility strategies of US military families living abroad. As a Fulbright teaching assistant, she will use her strong academic background to help explain contemporary U.S. society and its racial disparities. Upon returning to the U.S., Zoë will apply to medical school.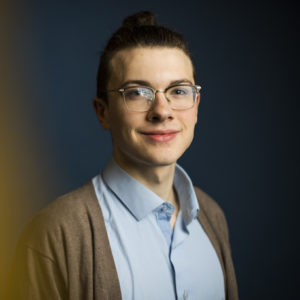 Tim DiFazio CSSH'19
English; minor in Linguistics
South Korea – English Teaching Assistantship
Born to parents who met as Peace Corps volunteers, Tim was encouraged to cultivate his knowledge of the world, approaching other cultures with respect and intellectual curiosity. The most formative experience of his life was teaching English as a second language in Mongolia for six months, where he used his outstanding communication skills and adaptability to start and finish more than two dozen courses. Tim's Fulbright will take him to South Korea, a country that has long held his interest. He completed a semester-long research paper on contemporary Korean politics in 2016 and contributed to research on Korean rock music for a music magazine. After his Fulbright year, Tim will pursue an advanced degree in linguistics before starting a career in computational syntax and natural language processing.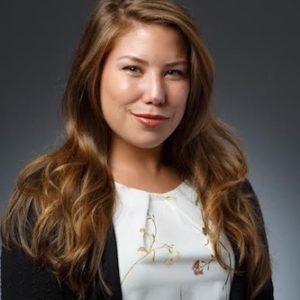 Megan Doe MS'19
Global Studies and International Relations
Germany – English Teaching Assistantship
Because she has witnessed the rise of extreme nationalism and xenophobia in the U.S. and Germany, Megan believes that language and cultural exchanges are critical to promoting mutual understanding and respect between the citizens of those countries. As a Fulbright English teaching assistant in Germany, Megan will draw on her extensive teaching experience, including two years as an Americorps volunteer running a non-profit program focused on academic enrichment and leadership development for low income and English-language-learner students. She will help German students develop their language skills, while also learning from a country highly regarded in the world of education and economics. She also hopes to better contextualize the nuances of the global refugee crisis by volunteering with civic groups and nonprofits in Germany. After returning to the U.S., she will apply to a PhD international relations program so that she can teach and research in the field of global education.
Claire Frey CAMD'19
Communications; minor in French
Brazil – English Teaching Assistantship
Claire demonstrates the inquisitiveness, cultural sensitivity, and foundational teaching experiences necessary for a Fulbright English teaching assistant position in Brazil.  She has held both professional and personal positions of authority; her work as a teacher, lifeguard, and tutor highlights her ability to foster trust and exercise appropriate judgment. Her outreach to local Brazilian communities also reflects the curiosity and cultural sensitivity critical for the position. She hopes to volunteer with urban farming and gardening projects in local communities and schools, fostering empowerment and community engagement through self-sustainability. Claire is also interested in expanding nutritional education in the U.S. through similar programs. When she returns home, Claire intends to pursue a master's degree in education in order to teach English literature in urban areas and work in educational policy to increase bilingual and nutritional education in the U.S.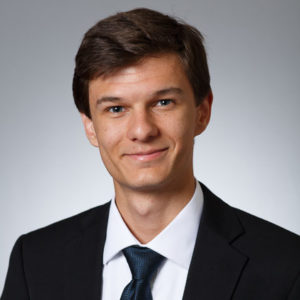 Isaac Kresse COS/COE'19
Chemistry and Computer Engineering
Germany – Biology
A University Scholar, Honors student, and 2018 Goldwater Scholar, Isaac Kresse pursued a combined degree in chemistry and computer engineering in order to harness the power of algorithmic processing to discern otherwise invisible patterns in the vast amounts of data that biochemical experiments often generate. Isaac's interest in chemistry, first sparked at Gatton Academy, a math-and-science-focused school in his home state of Kentucky, has led him to conduct research not only at the lab of Northeastern Professor John Engen, but also at SINTEF, an independent research organization in Trondheim, Norway, at the National University of Singapore, and at Harvard Medical School, where he developed microfluidics to enable single-cell genomic analysis of brain cells. In Germany, aging populations have contributed to the prevalence of age-related diseases, such as Alzheimer's and Parkinson's, several of which are associated with the formation of misfolded proteins in the brain. With his Fulbright, Isaac will conduct research on these proteins at the Max Planck Institute for Biochemistry in Munich. The Fulbright will allow Isaac to pursue his passion for understanding the biochemical mechanisms underlying life. After the Fulbright, he'll apply to PhD programs to study biochemistry with the goal of pursuing a career in academia.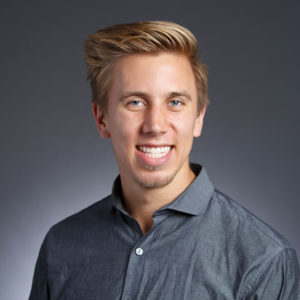 Connor Messer E'19
Bioengineering; minors in Computer Science and Vocal Performance
United Arab Emirates – Engineering
As a bioengineer, Conor understands the potential of new technologies to improve healthcare outcomes. But as a culturally agile learner whose Northeastern education has taken him from Boston to Germany, Spain, New Zealand, and Jordan, this University Scholar and Honors student also understands how cultural values surrounding illness, disability, and death can vary widely between societies, and how technologies and tools developed without an understanding of cultural values can be less than useful. With his Fulbright, Conor will both undertake bioengineering research and assess the unique values and needs of the Middle East region with respect to devices that enhance or alter the human body. Working at the Khalifa University Center for Autonomous Robotic Systems under Dr. Federico Renda, Conor will design and develop fabrication strategies for a soft robotic catheter for cardiac surgery, a device which would allow for closed chest surgery with much more precision and shorter recovery time.
Eleanor Patten CSSH/DMSB'19
Political Science and Business Administration; minor in Global Social Entrepreneurship
Spain – English Teaching Assistantship
A talented communicator and critical thinker, Eleanor displays a genuine enthusiasm for learning, a deep commitment to serving others, and a remarkable capacity to motivate regardless of cultural and economic conditions. She worked independently in poor communities with language barriers and cultural challenges in Guatemala and in South Africa, where she helped impoverished microentrepreneurs identify opportunities for improving their lives. As a Fulbright English teaching assistant, she wants to collaborate with local educational nonprofits or businesses to see if they can adopt social enterprise approaches to help improve a larger population. Upon returning to the U.S., Eleanor hopes to aid disadvantaged populations through high-quality education with a dream to create her own education-based social enterprise that works to reform existing education policy.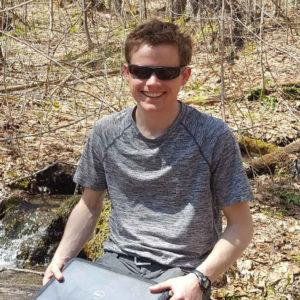 Kevin Ryan PhD'22
Marine and Environmental Science
Chile – Environmental Studies
Farmed salmon production is an important economic activity in Chile that contributes significantly to the global aquaculture market. Kevin will work with members of the Applied Limnology Laboratory at the Universidad Austral de Chile to scientifically evaluate the impact of wastewater emanating from land-based salmon aquaculture facilities in the Lake Villarrica watershed in southern Chile. He also plans to assist in teaching undergraduate science courses and to mentor Chilean students. Prior to beginning his graduate studies at Northeastern, Kevin lived in Chile, conducting field research and improving his Spanish language skills. After he returns from his Fulbright year, he will complete his doctoral dissertation on dissolved organic matter in various watersheds and build a research career in an academic, government, or nonprofit setting.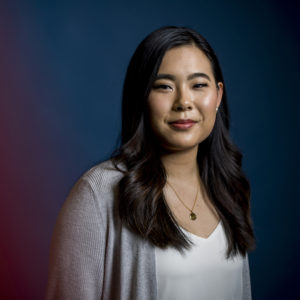 Cathy Tripp CSSH'19
International Affairs; minor in Cultural Anthropology
South Korea – English Teaching Assistantship
In combining her study-abroad experiences with humanitarian work and her Boston internships with international organizational work, Cathy has prepared herself for the challenges of working as a Fulbright English teaching assistant in South Korea. Maximizing the possibilities of Northeastern's NUin, co-op, and international study programs, Cathy has had immersive experiences in Greece, Switzerland, the United Kingdom, Bosnia, Serbia, and Macedonia. In addition to speaking Spanish, French, and Mandarin, she has been teaching herself Korean for the past five years and is well-versed in the country's social and cultural phenomena. At EF Education First and at World Boston, she facilitated language training and cultural exchange programs; at Beyond Conflict, she assisted in a consulting practice focused on democratic transitions and national reconciliation efforts. At her most recent co-op, she worked for the U.S. Commercial Service in London, promoting economic cooperation between the U.S. and Britain. Her goal is to one day become a Foreign Service Officer.