Ahmed E'19 Becomes Northeastern's First Mitchell Scholar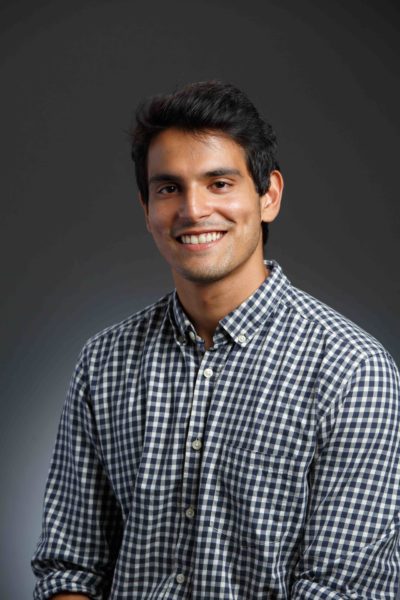 Minhal Ahmed E'19, a bioengineering major with an ambition to break down the walls between the mind and the body and between the physical and social determinants of health, has been named a George Mitchell Scholar, becoming the first Northeastern University student to earn this prestigious award for postgraduate study in Ireland.
Ahmed's story is that of the American Dream: his family immigrated to the United States from Pakistan when he was four years old, and he attended five different schools in five years before his family settled in New York. As a high school senior, he discovered a passion for neurobiology through Columbia University's Science Honors Program. At the same time, he began to understand that effective interventions to improve our overall health must account for factors both physical and social—"our genes as well as our zip codes," in his words—whose complexity is not fully appreciated.
At Northeastern, where he is a member of the University Scholars and Honors Programs, Ahmed tackled the intertwined determinants of health through his bioengineering major, his deep involvement in scientific research, and his longstanding commitment to providing health education in under-resourced local schools. Ahmed's research focuses on the gut microbiome, the trillions of microorganisms that live in our digestive system, and its relation to the nervous system. In short, Ahmed says, he wants us to stop thinking of the gut as merely a digestive organ, but to view it as a sensory one as well. The big question now, he says, is "How does the gut talk to the brain, and how does the brain talk back?"
Ahmed began this investigation in Professor Abigail Koppes' Advanced Biomaterials for NeuroEngineering Laboratory (ABNEL) at Northeastern, and continued it through research co-ops at a neurobiology lab at Duke University School of Medicine, where he led a pilot project studying cerebellar circuit function during locomotion, at Editas Therapuetics, where he researched novel gene therapies based on CRISPR/Cas9 technology, and at Massachusetts General Hospital, where he focused on the enteric nervous system. Ahmed's distinguished research career was recognized with the Goldwater Scholarship in 2018.
Meanwhile, Ahmed's dedication to empowering young people to make responsible, fully-informed decisions about their own health led him to volunteer with Peer Health Exchange, a national organization that promotes health equity through health education. Ahmed rose to become the president of Northeastern's chapter of Peer Health Exchange, one of the largest chapters in the United States.
In his free time, Ahmed is a passionate basketball player and hosts "No Preservatives," a hip-hop program on Northeastern's student radio station, WRBB.
With the Mitchell Scholarship, Ahmed will pursue the MA in Applied Psychology at University College Cork, where he will study under Professor John Cryan, a world-renowned leader in research on the gut-brain axis.