Three Huskies Earn 2023 GEM Fellowships
This academic year, three Northeastern students received Graduate Education for Minorities (GEM) Fellowships. These fellowships provide outstanding students in STEM fields with financial support for graduate study and access to experiential learning opportunities within the private sector. Undergraduate Research and Fellowships is very pleased to congratulate these Huskies on their achievements!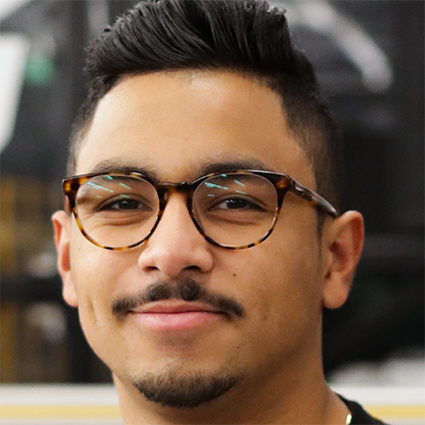 Eric Cardoza COE'23, Mechanical Engineering
Eric Cardoza's love for cars is what drives his passion for engineering. The son of a diesel mechanic, he has focused his studies and co-op work at Northeastern on automotive mechanics. Recently, he completed a mechanical engineering co-op with Indigo Technologies, where he contributed to the development of a new class of electric, light-utility vehicles intended to encourage innovation within the rideshare and delivery industries. He also designed and released over 100 parts using sheet metal, weldment, machining, and 3D printing design standards. He undertook a mechanical engineering co-op with Berkshire Grey, developing automated sorting devices for global retailers and designing products intended to bolster operator safety. His ultimate goal is to utilize his education and automotive experience to bring electric vehicles to the world that redefine performance and efficiency.
Melanie Edmund COE'23, Industrial Engineering
Melanie Edmund is passionate about planning. She brings this passion to her studies and work in operations and manufacturing engineering. During her time at Northeastern, she has completed co-ops with organizations such as WHOOP, a wearable fitness-tracking wearable and app, and energy companies Sense and Dalkia Energy Solutions. In each of these roles, she improved her project coordination skills and engaged with diverse supply chains and manufacturing environments. She is a member of the National Society of Black Engineers and has served as the communications chair for the Black Engineering Student Society at Northeastern. She has also worked as a scheduling assistant at Northeastern, where she assisted more than 400 student groups with scheduling on-campus venues and efficiently resolving scheduling conflicts.
Benoni Vainqueur COE'23, Computer Engineering and Computer Science
Benoni Vainqueur is a talented and experienced technician, web developer, and aspiring computer engineer/scientist. In his fourth year as a computer engineering student at Northeastern, his work focuses on object-oriented programming, cyber infrastructure, and robotics. He has put his skills into practice most recently as a software/firmware engineering co-op with Microsoft, working to implement diverse machine learning elements across several distinct firmware platforms. He has also worked as a software automation engineer with Amazon Global Robotics, developing coding and applications for Amazon fulfillment centers worldwide. Vainqueur exhibited his creative side as a web developer at DRMWX Creative, where he created eye-catching and functional digital design concepts for corporate websites and branding and identity campaigns. At Northeastern, he has acted as both a teaching assistant and peer advisor within the College of Engineering.
These biographies were originally published by the Office of the Provost for the Academic Honors Convocation.