Passionate Public Servants Nominated for Truman Scholarship
This year, Northeastern had the great pleasure of nominating four students for the The Truman Scholarship. A recognition for college juniors who are true "change agents," with the passion, intellect, and leadership potential to improve the ways that public entities—be they governmental bodies, nonprofits, educational institutions, or advocacy organizations—serve the public good, the highly competitive, merit-based award funds graduate schooling. This year, Northeastern University had the pleasure of nominating five outstanding students for this award.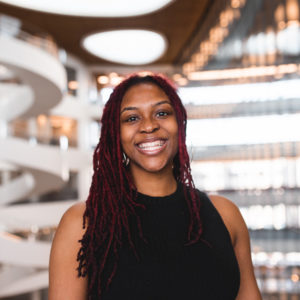 Folashade "Sade" Adewunmi CSSH '21
Studies: Criminal Justice with a minor in Law and Public Policy
Hometown: Playa Vista, CA
Sade Adewunmi has combined her academic study of criminal justice, her talents for rhetorical persuasion and visual communication, and her on-the-ground work with police departments, court offices, and public defenders to fashion a sophisticated vision for breaking racially disparate cycles of poverty, discrimination, and incarceration by teaching us to see each other, ourselves, and our society differently. Majoring in criminal justice with minors in journalism, rhetoric, and law and public policy, Sade has built a robust and diverse set of critical, communicative, and analytic skills. She is a three-time winner of the John. D. O'Bryant African American Institute's Ronald E. Latham Oratory Competition and, as senior creative director of Northeastern's campus fashion magazine, The Avenue, she strove to advance inclusion, rethink beauty, and expand representation. First at the central division of the Boston Municipal Court, where those accused of minor offenses encounter the complexities of the judicial process; then as an analyst at the Cambridge Police Department; and finally at the Alameda County Public Defender's Office, Sade has used Northeastern's experience-driven model of education to engage with the criminal justice system from all angles. These experiences inform her continuing drive to craft and share new narratives of equality, redemption, and justice.
Kerry Eller COE '21
Studies: Bioengineer with a minor in Political Science
Hometown: Barrington, RI
Kerry Eller is dedicated to ensuring that those in low-income countries have access not simply to the medical technologies that save and enhance life, but also to the apparatus of development itself. Kerry spent high-school summers developing a cell line that could be used to heal tears in the menisci. After her first year at Northeastern, she worked at Brown University developing novel assay techniques that led to an eightfold increase in her lab's capacity to image fish larvae in search of chemicals that could repair vision impairments currently affecting 253 million people. She next embarked on a project characterizing musculoskeletal effects of obesity, another rapidly increasing threat to human health. Most recently, Kerry completed a global co-op at the Center for Technology for Research and Development with Social Impact at Chile's Universidad del Desarrollo. There, she worked to improve both the mechanical function and the diagnostic accuracy of a remote mosquito trap. Kerry's passion for research with social impact is also a distinguishing feature of her extensive extracurricular involvement in organizations dedicated to global health. Kerry aims to complete a PhD in bioengineering and to pursue a career working with communities around the world to develop culturally appropriate technologies that expand access to healthcare.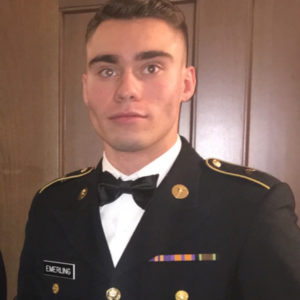 Jack Emerling CSSH '21
Studies: Political Science with a concentration in Security Studies
Hometown: Salem, MA
Jack Emerling is dedicated to engaging the U.S. military with academic and industrial partners at home in a thoughtful and considered way, while also seeking to forge critical relationships with counterparts around the globe to advance American interests as the political order of the 21st century takes new and unexpected forms. Academically, Jack has a nearly perfect record, earning high marks within a rigorous political science curriculum, focusing his studies on security and Arabic. As a cadet in the Reserve Officer Training Corps, Jack has distinguished himself, moving into positions of increasing responsibility and excelling in programs aimed at fostering mutually beneficial relationships, as well as cultural and linguistic fluency, in Amman, Jordan, and Senegal. Seeking to understand the nature of contemporary counter-terrorism, Jack served as an Industrial Security Intern and Assistant Facility Security Officer at the Kostas Research Institute for Homeland Security. Here, he explored the nature of the partnerships between academia, industry and government that characterize the contemporary military and worked to ensure the resilience of the mutually imbricated systems that govern our technologies and lives. Jack is a voracious reader and lifelong learner, serves as an EMT, and is a member of the College Republicans. He hopes to build a career in the Army, earning a graduate degree in International Affairs with the aim of eventually becoming an Army Foreign Area Officer (FAO) with a regional expertise in the Middle East, South America, or Africa.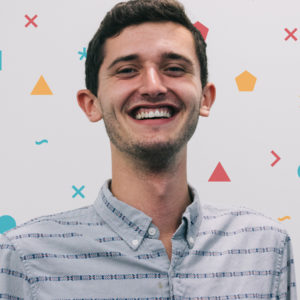 Nathan Hostert CSSH '21
Studies: Political Science with a minor in Law and Public Policy
Hometown: Wichita, KS
Nathan Hostert is dedicated to turning the places where we live (by circumstance or choice) into the communities where we thrive. Having grown up in the midst of the "Kansas experiment," where record-breaking Republican tax cuts significantly reduced the state's provisioning of public goods, Hostert has spent his time at Northeastern exploring the ways that government can be used to shape more just, equitable, and inclusive communities. An academic superstar in political science, Hostert has taken his learning from the page to the public stage through a variety of service roles. Within the university, Nathan advanced through the ranks of student government as a powerful voice for inclusion and well-being, ultimately having his slate elected as the first openly gay president and vice president of the Student Government Association. His work across constituencies on campus has expanded gender-neutral housing options, increased access to mental health services, and connected students to public transit. At a co-op within the Financial Litigation Unit of the US Attorney's Office in Boston, Nathan strove to ensure that individuals and communities victimized by white-collar crime were made whole, drafting motions that resulted in millions of dollars of ill-gotten gains being recouped. Later, at the Boston Planning and Development Agency, Nathan led public meetings to engage the community in planning for the largest development project in Boston's history. Nathan hopes to study political administration at the graduate level with the ultimate goal of returning to Wichita and making Kansas a thriving and welcoming home for everyone.