Valentina M.- Tutor of the Month- March 2018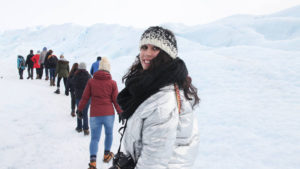 Name  Valentina M.
Major: International Affairs and Political Science
What courses do you tutor? Spanish, French, Political Science and International Affairs, PSYC 1101
How long have you been tutoring? I have been tutoring since my second semester freshman year, so for a year and a half now.
What is your CRLA Level? Level 1 Certified Peer Tutor
How have you represented PTP? I am always advertising for the PTP everywhere I go. I believe is such a great resource for everyone, even if you feel like you are doing well in the course. The people working in the PTP are passionate, hardworking individuals who believe in what they do. I think that here, everyone is motivated to help others. If  I prepare before every session and I engage with my tutees, if I help them thrive in every homework and test, then I am representing what the PTP stand for.
How has PTP impacted you? The PTP has allowed me to keep in touch with them [the languages I tutor] and even learn more about my own mother tongues. This also applies to any other subject. When you tutor, you have to remind yourself of things that you would have otherwise forgotten. I think that being a Peer Tutor not only helps other people (and makes you feel like you're doing good) but also enhances your own learning process.
Student Testimonial: "Valentina was amazing! She was really sweet and helpful and had great examples to show me. She is very encouraging and gives good tips on how to improve outside of class or tutoring as well. I plan on signing up for more sessions with her."