Odera C. – Tutor of the Month – May 2018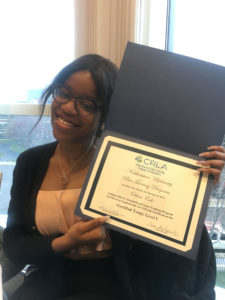 Name: Odera C.
Major: Civil Engineering
What courses do you tutor? PHYS 1151, PHYS 1152, CHEM 1151
How long have you been tutoring? Since Fall 2017
What is your CRLA Level? Level 1 Certified Peer Tutor
How have you represented PTP? I represented PTP at the annual New England Peer Tutoring Association (NEPTA) Conference. I also often mention it to people as a great source for academic help.
How has PTP impacted you? It has made me a lot more confident and given me more advanced communication skills, such as cultural agility. It has also exposed me to the possibility of going into the teaching profession at some time in the future.