Gillian B. – Tutor of the Month – October 2018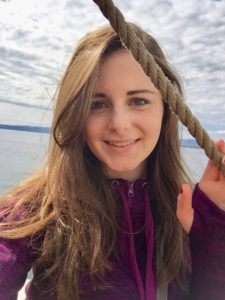 Tutor of the Month- October 2018
Name: Gillian B. 
Major: Biochemistry
What courses do you tutor? General Chemistry 1+2, Organic Chemistry 1, Biological Psychology, and Psychopharmacology
How long have you been tutoring? Since Fall 2017
What is your CRLA level? CRLA Level 1 Certified Peer Tutor
How have you represented PTP? I spread the word about how amazing PTP is at Northeaster by showing the enthusiasm that PTP is known for both in my sessions and around campus! I am 100% invested in the success of every student I meet, and this makes me go the extra mile in providing them with learning strategies that make them successful students. I also make sure my peers know that I'm rooting for them, and that we at PTP are willing to help in any way we can!
How has PTP impacted you? PTP has helped me see the multitude of different learning styles out there. Some of my tutees have unique organization styles and creative ways of studying that I've learned to apply in my own studying. I've really learned just as much from them as they have from me! Since becoming a peer tutor, I've also dedicated more time to reviewing material from prior classes (teaching is a great way to study!) and this has helped my preparations for taking the MCAT this spring.