This Giving Day, Support the University Honors Program!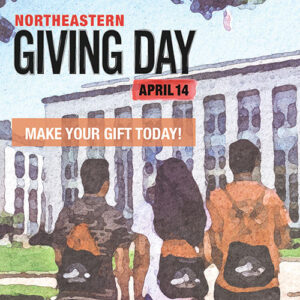 Donate Now to Make a Difference for Honors this Giving Day
The University Honors Program is thrilled to participate in Giving Day 2022, coming up on Thursday, April 14!
Honors is an important part of Northeastern – we provide an unparalleled atmosphere for learning, in the classroom and beyond! With your support, the University Honors Program will bolster exciting forms of experiential learning, making it a cornerstone of an Honors education at Northeastern. And, you will enable Honors students to transform their visions into reality and meet the diverse challenges facing our world.
We will have an in-person event at 150 Richards on Thursday, April 14 from 11am to 2pm, to which all are welcome. But you don't need to wait until then to show your support for Honors! You can donate any time at our official Giving Day campaign.
And, if the University Honors Program receives Giving Day support from 35 donors, an additional $2,500 will be unlocked from alumnus Sean O'Donnell (DMSB '93). Hear more from Sean on supporting the Honors Program, and help us unlock his generous gift!