This Fall, Honors LLCs Found Innovative Ways to Connect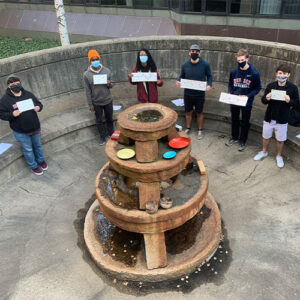 Though our first year Honors Huskies' first semester of college may not have been quite as they imagined it a year ago, they rose to the occasion and really made the most of it. Through creative virtual events and safely physically-distant in-person events, the first year Honors LLCs explored Boston, the world around them, and continued to connect with each other. Here, we're taking a look back at the Fall 2020 semester, reflecting on what they've accomplished so far, and looking forward to a fresh start in Spring 2021.
Many of the LLCs' events centered on Boston and the city's unique offerings. In early November, Explore Boston: Arts & Culture (EV6) ventured to the Museum of Fine Arts for their exhibit on Jean-Michel Basquiat, "Writing the Future: Basquiat and the Hip-Hop Generation." The special exhibit featured street art from New York City primarily from the later 20th century. As HLLA Kristin D'Angelo noted, "the students primarily explored in a group together. Everyone except one student had never been to the MFA before, so it was a new and enlightening experience for them." Both Arts & Culture LLCs also went to the Isabella Stewart Gardner Museum!
Another neighborhood with plenty to explore is Chinatown. Foodies (EV9) went into Chinatown in small groups with HLLA Olivia Leighton and Coordinator Misa Tran. In recounting the events, Olivia said that in-between chats about the history of the area, the students "went around and shared our favorite food from our hometowns, which was a great talking point. Several students discovered they lived pretty close to one another. We also talked about the significance of food from a cultural standpoint, and how it can often bring families together."
Travel & Adventure (EV6) continued their exploration of Boston's Emerald Necklace with a trip to the Arnold Arboretum in Jamaica Plain. HLLA Caitlin Camire said that she "lead small groups to different sections of the arboretum and then we met back at the top for a great view of Boston. Again students brought their cameras and were able to take some fun pics!" The other Travel & Adventure LLC (EV10) also headed to Jamaica Plain, as a small group attended Boston Lights at the Franklin Park Zoo.
Other local sites our LLCs visited: the Museum of Science (Technological Innovation & Creativity (EV4)); the Fenway neighborhood and the Esplanade (Outdoor Adventure); Rockport, MA & Castle Island (Future of Cities); and the Charles River (Athletics & Analytics). Technological Innovation & Creativity (EV7) linked the current moment to their exploration of the Fenway area and the Rose Garden. As HLLA Alex Spak noted, the students "talked about how robots could tend to the flowers, but also shouldn't be too obvious, since the natural aspect of the Rose Garden was so nice," since COVID protocols make it difficult to perform everyday maintenance.
Given the national focus on the election and racial justice, our LLCs provided space for first year students to decompress and talk with each other about issues important to them. Jeanine Nasser, HLLA for the Cutting Edge Activism LLC, hosted a debrief for students in the wake of the grand jury ruling in the Breonna Taylor murder case, starting and ending the event with mindful moments and meditative exercises. Cutting Edge Activism also hosted a pre-election Q&A! Additionally, Explore Boston: Community Service spent a Friday evening writing letters to incarcerated survivors of domestic violence through Survived and Punished's Letter Writing Action.
Of course, virtual platforms were incredibly important to the LLC experience. Foodies (EV4) held an event using the Jackbox platform, including murder mystery trivia. Both Arts & Culture LLCs used the Kast platform to stream the 25th Anniversary Concert of Les Miserables in a joint event. Foodies (EV4), Technological Innovation & Creativity (EV7), and Explore Boston: Cultural Immersion (EV7) hosted virtual screenings of Ratatouille and Wall-E, complete with snacks delivered to dorm rooms!
The Gaming LLC and the Artificial Intelligence & Robotics LLC united to attend PAXonline, a gaming, VR, and digital media expo. Online games such as Among Us, and the virtual opportunities with tabletop games such as Dungeons and Dragons, were popular among the LLCs. Additionally, Gaming began work with Tabletop Simulator, which allows people to play almost any tabletop game virtually, and AI & VR connected via the gaming platform Kahoot.
Zoom was still essential (as it is to us all now), as Music Lovers hosted a workshop with Steve Long, a composer and pianist, in which students learned how to created graphic and text-based scores. Foodies (EV4) hosted "Around the World in Eight Snacks," with bags of snacks delivered to the students' dorms and a zoom call to share in the tasting of the snacks. And, Explore Boston: Cultural Immersion used zoom to facilitate discussion in concert with catering from local Boston favorite MIDA.
And there were opportunities for safe in-person activities! Wellness & Nutrition participated in physically-distanced yoga outside on Krentzmann Quad and had a Sweetgreen picnic outside while the fall weather was still crisp and lovely. Healthcare Innovation had students paint the digestive tract on aprons while watching a documentary about the U.S. healthcare system and held a "Healthcare Happy Hour" with byChloe catering prior to the Thanksgiving break.
Music Lovers and Arts & Culture (EV5) set up a joint event around Halloween, passing out candy, snacks, and craft supplies to first year students. HLLA Rowan Heneghan said of the event that "people seemed very excited to let go of academics for a moment and do something like coloring in one of the Halloween themed coloring pages or making little monsters out of their candy jars using tissue paper and googly eyes." And, Arts & Culture (EV5) hosted a play reading of Time Flies by David Ives!
Given the creativity the HLLAs, Coordinators, and students showed during the fall semester, we're certain the spring 2021 semester will provide even more opportunities for engagement, connection, and exploration.