Make Your Mark on the Honors Program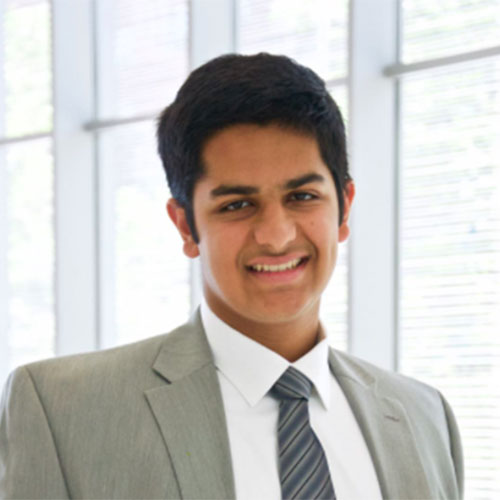 Vinaik Gautam, DMSB'22
"Being a Honors Ambassador has been an incredible experience as I have developed close relationships with my fellow Honors Ambassadors and Honors faculty. This group is one of the most diverse cohorts I have been a part of, and it is a microcosm of Northeastern University as a whole. Northeastern prides itself on the diversity of its students and it is shown through the interests and passions each Northeastern student has."
Caitlin Camire, COE'21
"I love being a HLLA because I can introduce my LLC members to some of my favorite places in Boston which have quickly become some of the students' favorite places as well! Besides the themes that provide common interests, it has been great to discover additional shared interests; going to visit Franklin Park Zoo for Boston Lights, we discovered that many members shared a passion for photography!"
The promotion of leadership development is a core objective of Honors. While there are many ways to become a leader on campus and in the Boston community, Honors offers three unique opportunities for Honors students who wish to leave their mark— by creating innovative programming, guiding other students, and, most importantly, by helping to shape the future direction of the University Honors Program itself.
The Honors Events Council is charged with canvassing their peers about their interests and then using that information to design and lead co-curricular programming to engage all Honors students— particularly upperclass Honors students. Last year, the Honors Events Council planned a virtual Honors Trivia, a documentary viewing and discussion, a wellness day, the third-annual HEIST – Honors Exchange of Ideas, Skills & Talents exposition—and so much more.
Students who have interest in engaging the Honors community, an enthusiasm for planning events and sharing about opportunities within the Honors Program, and are eager to represent the University Honors Program, are encouraged to apply to join the Honors Events Council. Applications are available annually in April/May. To learn more, please contact Jenna Thrash.
Honors Living Learning Assistants (HLLAs) are upperclass Honors student leaders who provide a bridge between the academic and residential life components of the Northeastern University Honors Program experience by supporting Honors Living Learning Communities (LLCs), based in East Village and International Village.
HLLAs facilitate one or two of the themed Honors LLCs by helping to design and implement activities and events. HLLAs develop their own leadership competencies as they participate in leadership workshops and learn skills for mentoring and building a sense of community among first-year students.
Applications become available each year in November. View the full position description here.
Honors Ambassadors share their enthusiasm for the University Honors Program and Northeastern by acting as a representative of the program, particularly at events for prospective students, including fall Open Houses, Preview Day, and Welcome Day events. Ambassadors meet personally with prospective students and their parents along with Honors staff, serve on panels during Welcome Days, contribute to webinars, and assist with Honors Welcome Week. Ambassadors attend monthly planning meetings during the Fall and Spring semesters.
Students who are outgoing, friendly, comfortable speaking in front of large groups and are eager to represent the University Honors Program are encouraged to apply. Applications open in the fall semesters. For more information, email us.