Each summer, all incoming Northeastern students read a selected literary work to prepare for their first academic experience in college— an experience that they will all share and that will serve as common ground as they form relationships and friendships with one another.
During Welcome Week, first-year students come together to hear the author personally present their work. The author will respond to students' submitted questions through a moderated Q&A session. Students will have the opportunity to have their book signed by the author at the conclusion of the event.
While several Northeastern courses incorporate the First Pages selection as part of their curriculum, additional events and programs are offered over the Fall and Spring semesters to keep the conversation going—and to enable students to delve more deeply into the themes raised in the book and, as appropriate, support students' efforts as they explore how the themes pertain to their own lives and those in the communities that neighbor Northeastern. In some cases, students' explorations lead them to partner with community organizations to assist with advocacy, service, and social action. Each year, a host of relevant resources are made available to students by the Northeastern University Library.
The selection of the First Pages book is coordinated by the University Honors Program and the First Pages Committee, composed of faculty, staff, and students members committed to identifying high-quality literary works of broad interest. Consideration is given to books addressing compelling contemporary topics or issues presented within a multi-disciplinary framework.
Learn more about the First Pages Mission and Learning Objectives. 
2021-2022 First Pages Selection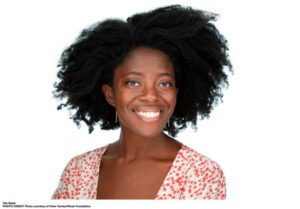 This year's First Pages event will take place on Wednesday, September 8th at 8:00pm EST. Award winning author, Yaa Gyasi, will discuss the experiences that led her to write Transcendent Kingdom. First Pages will be moderated by Professor N. Fadeke Castor,  Assistant Professor of Religious and Africana Studies, College of Social Sciences and Humanities. Additionally, there will be a special welcome from Provost David Madigan. First Pages is mandatory for all first-year Northeastern students.

The University Honors Program and the First Pages Committee are proud to present Transcendent Kingdom by Yaa Gyasi as the First Pages selection for the 2021-2022 academic year.
The child of Ghanaian immigrants, Gifty is a sixth-year Ph.D. candidate at the prestigious Stanford University School of Medicine. Her research involves the neuroscience of reward-seeking behavior in mice, and its connection to depression and addiction. However, when her mother slips into a depressive episode that leaves her bedridden, Gifty must come to terms with her family's past, the loss of a brother to drug addiction, and a childhood faith whose promises remain elusive and unfulfilled.
Transcendent Kingdom is a powerful and transformative story about identity, family, the mystery of the human mind, and humanity's enduring project of unlocking those mysteries through faith and science.
Yaa Gyasi was born in Ghana and raised in Huntsville, Alabama. She holds a BA in English from Stanford University and an MFA from the Iowa Writers' Workshop, where she held a Dean's Graduate Research Fellowship. She lives in Brooklyn, NY. She received the National Book Critics Circle's John Leonard Prize for Best First Book, the American Book Award, the PEN/Hemingway Award for Debut Novel, and the Vilcek Prize for Creative Promise in Literature for her 2016 debut novel, Homegoing.
For more information about Yaa Gyasi, please visit her official bio at Penguin Randomhouse.
Previous First Pages Selections
Dear America: Notes of an Undocumented Immigrant by Jose Antonio Vargas examines citizenship and immigration in the United States through his personal account of his life as an immigrant from the Philippines and his subsequent public admission of his undocumented status.
What the Eyes Don't See by Dr. Mona Hanna-Attisha examines her journey as she and a group of dedicated community leaders discovered lead in the Flint, MI water supply. The fallout from this discovery revealed how misguided austerity policies, broken democracy, and callous bureaucratic indifference placed an entire city at risk. And at the center of the story is Dr. Mona herself—an immigrant, doctor, scientist, and mother whose family's activist roots inspired her pursuit of justice.
Winner of the Pulitzer Prize, Dr. Matthew Desmond's Evicted: Poverty and Profit in the American City examines issues of poverty, economic exploitation, and housing insecurity in American cities.
MacArthur "Genius," attorney Bryan Stevenson, presented his award-winning volume, Just Mercy: A Story of Justice and Redemption, at First Pages 2017. Stevenson recounted his pioneering work on criminal justice reform in the United States, addressing a contested set of issues that provoke questions about race, class, and equal treatment by the law.
2006: Mountains Beyond Mountains by Tracy Kidder
2007: Easter Rising by Michael Patrick McDonald
2008: Three Cups of Tea by Greg Mortenson and David Oliver Relin
2009: Beautiful Boy by David Sheff
2010: Zeitoun by David Eggers
2011: Better by Atul Gwande
2012: State of Wonder by Ann Patchett
2013: Beyond the Beautiful Forevers by Katherine Boo
2014: Five Days at Memorial by Sheri Fink
2015: From the Memoirs of a Non-Enemy Combatant by Alex Gilverry
2016: Strength in What Remains by Tracy Kidder