Kira Mok, CSSH'23
"Unfortunately, Lauren and I haven't been able to meet in person due to COVID-19, but it still has been an amazing experience and hopefully, we can meet in person one day! I'm interested in pursuing a career in environmental justice, which is different from Lauren's career, but we've been able to find so many connections and shared interests. She's given me insight into some of the pros and cons of working in nonprofit sector, which has been really helpful. We've also talked about everything from how to make the most of co-op to advice about graduate school."
Kira Mok is a CSSH student who was a Mentee during the 2020-21 academic year. She was matched with Honors alumnae, Lauren Bard (College of Criminal Justice '03), who has been a Mentor for the Honors Alumni Mentoring Network since the program piloted over five years ago.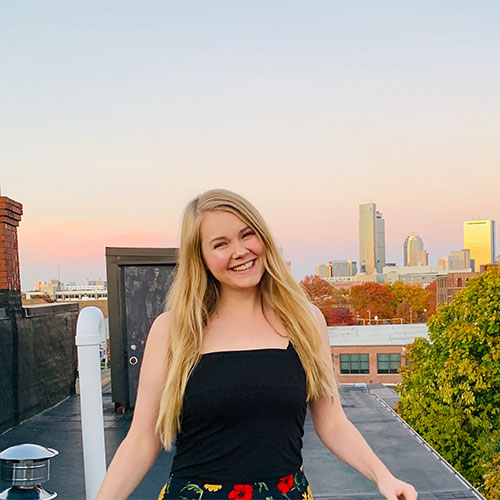 Lindsay Parcell, Bouvé'23
"[Janette] has been a wonderful mentor and I am very fortunate to have someone so knowledgeable give me advice on nursing. Her accessibility and openness have been an asset to me. Her advice and answers to questions have been incredibly helpful. The relationship that I have with her is incredibly rewarding, as she gives me knowledge that a young nurse should have to be the best they can be for their future patients."
Lindsay Parcell is a Bouvé student who has participated in the Alumni Mentoring Network since Fall 2019.
Upperclass Honors students have a unique opportunity to be mentored by an Honors alumnus through the University Honors Program Alumni Mentoring Network.
The Honors Alumni Mentoring network connects students in their 2nd year and above with Honors Program alumni to mutually advance students' and mentors' professional and personal effectiveness through supportive intergenerational relationships, professional workshops, and networking. 
As Mentees, Honors students receive guidance and personal attention from a Mentor who is invested in their success. Students gain experience in cultivating strong professional relationships as they grow intellectually, professionally, and personally. 
As we bring Honors mentors and mentees together to exchange ideas and engage in workshops and conversations around professional development, a rich, vibrant network is created in which all learn from one another. 
For more information, contact Alicia McCormick. 
Students who are interested in being matched with an Honors alumnus should submit an application via our NUsource page. You will be asked to answer a few registration questions and create your Mentee Profile, which you can connect with your LinkedIn account.  
If approved, you will have the opportunity to review all Mentor profiles and "favorite" up to 3 Mentors whom you would be most interested in connecting, which will be considered in our matching process along with your profile information to match all Mentees with a compatible Mentor. Although we may not be able to match you with an Honors Mentor who shares your exact academic background or professional aspiration, we are confident that you will be matched with a Mentor who will have your best interests at heart and will offer quality advice and support. Our mentors are eager and excited to invest deeply in students' holistic development.  
Mentee Applications are open for approximately 2 weeks in mid-September

 
Mentees are matched with their assigned Mentor at the beginning of October 

 

Mentors and Mentees are expected to connect 1-2 times per month until the end of the Spring Semester, after which pairs are given the option to renew their mentorship for another year should they choose

 
Attend the Mentee orientation meeting prior to Match Day

and review the program guide.
Actively engage with your Mentor through the academic year by meeting virtually or in-person 1-2 times per month. 

 

Discuss individual goals and expectations with your Mentor to determine how you both would like to engage in the mentorship.

 

Be proactive in reaching out to your Mentor and be prepared for each meeting with questions and discussion topics.

 

Follow through on all communications and agreed-upon meetings.

 

Be flexible, open-minded, and respectful.

 
Show appreciation for your Mentor's time and expertise.

 

Engage with other members in the network, both alumni and students, through our online platform as well as virtual and in person events. 

 
Who is eligible to apply to be a mentee?  
All Honors students in their 2nd year and above who are able to commit at least 2 hours per month to engaging in the program and feel prepared for the professional obligation of being mentored.  
I am away from the Boston campus studying abroad or on co-op, can I still apply? 
Yes, students can apply no matter where they are! Your Mentor may reside anywhere in the country or the world, so meetings can occur virtually  or in-person if you are both in the same location.  
What are some general expectations with respect to etiquette in mentoring relationships? 
You should engage with your Mentor in a dignified, respectful and professional manner at all times. We suggest responding to any communications from your Mentor within 48 hours. 

 

Mentors and Mentees are encouraged to meet in public places, such as offices, coffee shops or restaurants, rather than in a private setting such as a home or apartment.

 
Students are expected to keep ALL commitments made to their Mentors, including the times scheduled for meetings and phone calls. Students realize that their Mentors are busy professionals and so any requests to change scheduled meeting times must occur with ample notice. 

 

It is not the role of your Mentor to provide employment opportunities or any other material benefits. 

 
What kind of support may I expect from the University Honors Program? 
Throughout the course of year, the University Honors Program will provide participants with educational materials (e.g. Guides, articles, academic essays, etc.), dedicated training sessions, and indivualized support for mentors and mentees alike. The Honors Program will coordinate virtual and in-person events bringing together mentors and mentees and develop an online community for all participants to interact and exchange ideas. 
Honors Program staff will always be available to answer questions and provide support to all Mentors and Mentees in the Network. Please reach out to Alicia McCormick if you have any questions or concerns or need support developing your mentoring relationship.  
What happens at the end of the mentorship cycle?  
At the end of the Spring Semester, Mentees should schedule a meeting with their Mentor to reflect on the experience and thank them for their time. Pairs can discuss if they would both like to extend their mentorship for another year in the program. Otherwise, the mentorship will be closed, but the connection does not have to end. Honors students and alumni are welcome to connect informally outside of the Honors Alumni Mentoring Network whenever they please.