Honors Virtual Welcome 2020
The Honors Experience, at your fingertips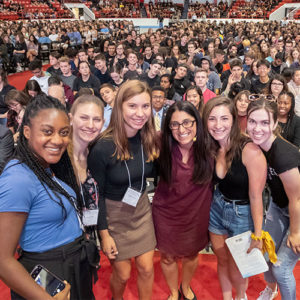 While we can't meet you in person just yet, we're delighted to share with you some of the most exciting aspects of an Honors education at Northeastern through our Honors Virtual Welcome.
As you watch these videos, be sure to check out these Frequently Asked Questions. And, if you'd like, you can sign up to request a virtual meeting with someone on our Honors Program team.
The Honors Virtual Welcome Videos will introduce you to the rigorous, exciting Honors courses and seminars we offer, taught by talented professors who are world renown in their fields. Perhaps even more importantly, you'll meet some of the people— our students, faculty, advisors, and more— who make the Honors  community incredibly rich and engaged.
First, watch a special message from the University Honors Program Director Professor Laurie Kramer. She'll suggest you watch the Honors Keynote Session that features two of our outstanding Honors students, Kritika Singh (Rhodes Scholar) and Michael Tormey (Marshall Scholar), joined by Honors Faculty-in-Residence and College of Social Sciences and Humanities Associate Dean, Dr. Tom Vicino.
---
Then, experience what the cultural life at Northeastern is like for Honors students. Explore our vibrant and inclusive Cultural Centers and read personal narratives written for you from Honors Ambassadors like Courtney Smith:
"With both financial and earnest community support as a member of the Honors Program, I was able to study abroad during my first summer in Kampala, Uganda. To this day, I consider this one of the best things I've done so far during my time here. As a student of color, it was imperative to me to not only enrich my college experience, but also my own global awareness, particularly in a region that despite its beauty and vibrant culture is both overlooked and underrepresented."
These narratives demonstrate the tight-knit bonds Honors students develop, with each other and with the broader Northeastern community.
---
You will then have the opportunity to view Honors Masters Classes offered by Northeastern faculty members. These classes are a sneak peek into the exciting and innovative fields Honors students have opportunities to delve into during their time at Northeastern.
Honors Master Class Facilitators:
---
Learn how Honors at Northeastern positions students for their brilliant future by viewing in this panel discussion, Success Beyond Northeastern  featuring:
---
Parents: Watch Professor Shan Mohammed, a physician who specializes in Public Health and serves as a Faculty-in-Residence (he actually lives with students in the residence hall!) about his perspectives about how the University Honors Program supports the personal growth of its students.
Hear sage advice from Professor Rebecca Riccio—a parent of two Honors students— who also teaches in Honors, coordinates an Honors Living Learning Community, and directs the Northeastern University Social Impact Lab.
---
Be on the look-out for announcements about upcoming Instagram Q&As (April 21, 24, and 28) and Webinars (April 16) so that you can learn more about being an Honors student at Northeastern—including the dedicated funding and resources we supply for research and creative endeavors, global experiences, community building, and more!
Welcome to our Honors Pack!