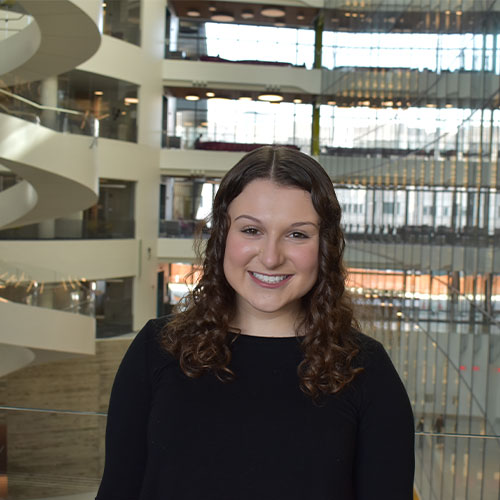 Sarah Goodman, CSSH'20
"I really realized throughout that Dialogue how lucky we are as Northeastern students to be able to have these experiences, as many of my friends who went to other schools were not able to do what I did in the 4 years at Northeastern."
Sarah Goodman participated in an Honors Dialogue of Civilizations to Germany with Honors Faculty-in-Residence Prof. Michael Hoppmann, which she called her most memorable experience at Northeastern. While at Northeastern, she took two Honors First Year Inquiry Series courses, and participated in two co-ops in the law field. She is currently a first-year law student at the University of Pennsylvania.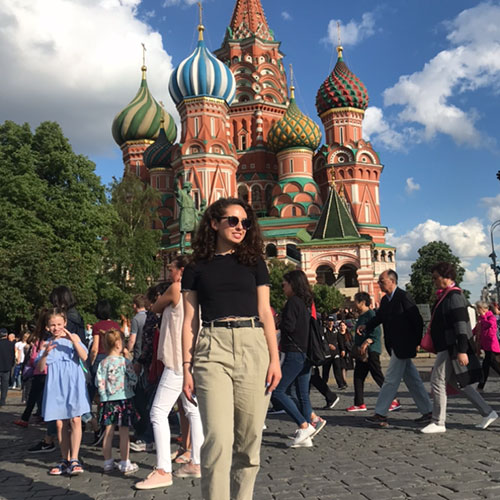 Jennine Abramsky, DMSB'22
"The Dialogue of Civilizations I went on changed my life because it brought me closer to my family's roots and took me to countries I would most likely never have gone to myself. I learned so much about the business environment of Eastern Europe from perspectives I would not have access to had I been an average tourist. It changed my perception of the region entirely and became a crucial part of shaping me to be a global citizen."
Jennine Abramsky participated in a Dialogue of Civilizations to Russia in Summer 2019. She is an Honors Ambassador and works for the Honors Program in Marketing and Communications. She is currently completing her first co-op with Bose.
Meaningful Engagement with the World Around You
One of the most exciting prospects of being a member part of the University Honors Program community is the varied opportunities we provide to explore the globe—enabling students to study, work, perform research and service as they develop collaborations and friendships with individuals from diverse cultures.
Today's challenges and opportunities do not recognize boundaries or borders. The University Honors Program at Northeastern encourages its students to explore, produce, and practice knowledge within this global context. It offers multiple global opportunities featuring an integrated academic and experiential methodology intended to prepare students to be global citizens. These programs are led by our innovative and inquisitive faculty, who act as guides, mentors, and collaborators in these shared global experiences.
Through Honors Dialogues of Civilizations, global co-op options, and Honors seminars that embed a faculty-led global experience, Honors students exercise their cultural competencies, broaden their global mindset, and in virtually all cases, have life-changing experiences.
Between the global experiences offered through the University Honors Program, and Northeastern as a whole, you can experience life in every continent. From exploring Costa Rican volcanoes, trekking along a centuries-old pilgrimage trail in Spain, to serving the local community in Otovalo, Ecuador, Honors offers its students the opportunity to pursue an enriching global experience aligned with their aspirations and goals.