Research/Creative Endeavors
Shellaina Gordon, COS'21
"The Honors Program provided a niche that I was looking for, it has given me the opportunity to pursue research in the sciences, yet explore other things I would not regularly expose myself to."
Shellaina Gordon received an Honors Early Research Award supporting her work exploring antibiotic resistance in multidrug resistance Acinetobacter baumannii in the Geisinger Lab, and an Honors Conference Travel Award to attend the 2019 Society for Advancement of Chicanos/Hispanics and Native Americans in Science (SACNAS) conference in Honolulu, HI. She was named a Goldwater Scholar in Spring 2020.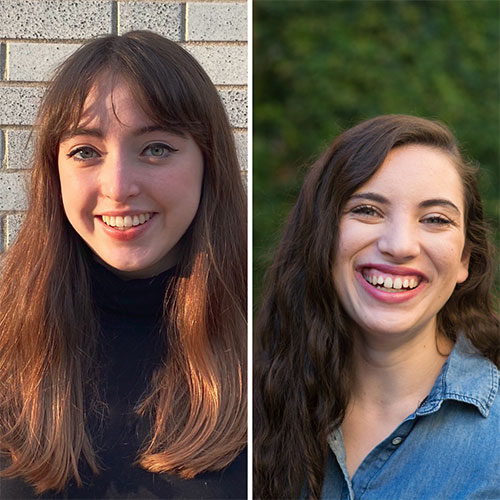 Kaitlyn Fiery, CAMD'22, and Shira Weiss, CAMD'22
"The Honors Program has been an incredible resource throughout our Northeastern experiences and the process of this project [How to Survive a Pandemic]. They were essential in assisting with outreach and generating publicity around opportunities to become involved in the project, whether as participants, actors, or designers."
During the height of the COVID-19 pandemic, Honors students Kaitlyn Fiery and Shira Weiss developed a community-based theatre piece, rooted in social practice: How to Survive a Pandemic. There were three virtual performances in February 2021, with further development in the future.
Research is not just about test tubes, microscopes, and beakers.
Scholarship, inquiry, and discovery— whether in the lab, the archives, the studio, the business incubator, communities, or through creative exploration and production— are the highlight of many University Honors students' experiences. Whereas Honors students are often attracted to these opportunities to help prepare for graduate and professional study, enormous benefit can be derived from simply learning how to ask and systematically answer interesting questions.  And, developing a relationship with a faculty member who is personally guiding your work can be a pivotal experience.
The University Honors Program offers students considerable support as they explore opportunities for engaging in research and creative endeavors and take advantage of the expertise of faculty and graduate students from all parts of campus and beyond.
Students may engage in research and creative endeavors in a variety of ways: for example, by serving as a research assistant in a professor's laboratory or studio; taking an independent/directed study course to explore an issue in greater depth; proposing an original project to be conducted under the mentorship of a faculty member; by performing an (optional) interdisciplinary thesis though Honors; or by completing an Honors in the Discipline project through one's department or college.