Inside the Honors Studio Series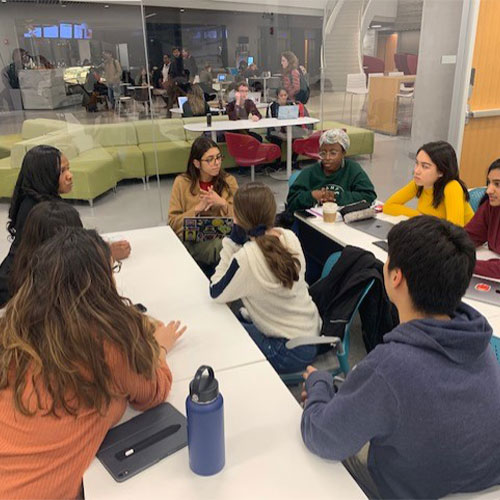 Inside the Honors Studio: Transformative Storytelling, Fall 2019
Inside the Honors Studio: Visual Thinking, Spring 2020
A new initiative designed to enhance Honors education.
Inside the Honors Studio Series are interdisciplinary programs designed with Honors students in mind to take their learning outside of the classroom.
The studio series provide Honors students opportunities to work closely with Honors faculty to enhance their knowledge of a particular area of study or skill; to give back to the community in a tangible way; to hone their professional skills; and provide many more opportunities to grow through the University Honors Program. Successful completion of a program (i.e., participation in all sessions, demonstration of key competencies learned throughout the series) will be considered as completion of one of the Honors courses required for Graduation with University Honors Distinction.
In We Wear the Masks, facilitated by Professor Vanessa Johnson, students will use Yaa Gyasi's book, Transcendent Kingdom, and Paul Laurence Dunbar's poem, "We Wear the Mask", as centerpieces for investigating how mental health issues experienced by Black individuals may present differently in diverse cultures, particularly when the legacies of colonialism, slavery, and systemic racism are considered. This exploration will enable students to bring together findings from the psychological sciences with artistic works to better understand mental health issues from diverse cultural perspectives—even creating their own African-inspired masks in the process. The overarching goal of the Studio is to enable students to use this culturally-based knowledge to become more effective advocates for those affected by mental illness and social injustice.
This Studio series will use a variety of modalities to advance learning and practice. Students will read and discuss scholarly articles about mental health in diverse contexts and with respect to legacies of colonialism and racism. Students will learn how to access and interpret mental health data bases that present mental health data from Ghana and the US. They will also listen to interviews of individuals from modern day Ghana who will describe the current state of mental health issues from their vantage points.
Professor Vanessa D. Johnson is an Associate Professor in the Department of Applied Psychology for Northeastern University. She is the former director of the College Student Development and Counseling Program. Her scholarship includes exploring African American college student development using culturally-based approaches such as the Nguza Saba, the impact of welfare reform on single mothers' access to higher education, teen mothers' higher education attainment and most recently exploring student activism, particularly the Black Power Movement's impact on higher education.
---
Facilitated by Honors Professor of the Practice Michael Patrick MacDonald, Restorative Justice will engage students in five sessions about Restorative Justice, and what it might mean to our current historical moment as we re-examine the role of the police in US society. Restorative Justice practices reduce police caseloads, court dockets and incarceration, taking lesser infractions—often sociological and mental health-related—out of the realm of criminal justice systems. Looking at violence and other harms through a public health lens, Restorative Justice techniques can be applied as Prevention, Intervention, and/or Treatment, seeing those stages of harm as a circular continuum.
Restorative Justice will increasingly be explored as cities consider the reallocation of police budgets (what is sometimes referred to as "Defunding the Police"). Restorative Justice should be understood by all who seek to reimagine justice in ways that are anti-racist, culturally responsive, and class equitable.
Students will work with long-time activist, community organizer, and Restorative Justice practitioner, Michael Patrick MacDonald, who is the author of the New York Times Bestseller, All Souls: A Family Story from Southie, to develop student-led presentations on the topic. Professor MacDonald will introduce students to powerful Restorative Justice leaders and projects happening in Boston's most impacted communities and help students create educational tools for engaging other students on the topic and for developing student allyship for Boston's community-based, survivor-led restorative efforts.
2020 – 2021
Art, Story & Health: Narrative Health Psychology in Critical Times | Dr. Irina Todorova, Bouvé College of Health Sciences
Data Science for Social Justice: Preparing New Programmers to Make a Difference | Dr. Laney Strange, Khoury College of Computer Sciences
Immigrant Justice: Fighting for Asylum Seekers through Research and Writing \ Prof. Hemanth C. Gundavaram, School of Law
New Realities with Immersive Technology | Prof. Mark Sivak, College of Arts, Media and Design & College of Engineering
The Power of Visual Thinking in Action | Dr. Maureen Timmons, Northeastern Dining Services
Relationship Building in the Time of COVID | Dr. Chong Kim-Wong, Vice-Chancellor and Dean of Students
Restorative Justice: Promoting a Just Future Through Community-Based Techniques for Truth, Accountability & Repair | Prof. Michael Patrick MacDonald, Honors Professor of the Practice
The Show Must Go On: Leadership In Uncertain Times |  Dr. Shannon Fairley-Pittman, Associate Director, University Honors Program
2019 – 2020
Art, Health, and Story: Narrative Health Psychology in Critical Times | Dr. Irina Todorova, Bouvé College of Health Sciences
The Power of Visual Thinking in Action | Dr. Maureen Timmons, Northeastern Dining Services
Social Justice and Performance: Perspectives and Positionality | Emma Futhey, University Honors Program
Transformative Storytelling: Personal Narrative at the Intersection of Justice and Healing | Prof. Michael Patrick MacDonald, Honors Professor of the Practice
Eloquent Presentations | Prof. Antonio Ocampo-Guzman, College of Arts, Media, and Design