Benjamin Dottinger, Bouvé'23
"The Honors Propel Grant was absolutely instrumental in bringing our idea from a class project to a viable business venture. Thanks to the grant, we could develop our prototype as well as attend a much-needed global conference. The Honors Program was the first to believe in our idea, and their generosity has helped us go further than we ever thought possible."
Benjamin, along with Honors students Theodora Christopher and Luke San Antonio Bialecki, received an Honors Propel Grant to continue development on their health business venture, SaluTemp, which they first conceived of in their Honors Interdisciplinary Seminar Angels, Venture Capitalists, and Health: Entrepreneurship in the Health Sciences. They presented their research at RISE 2021 and continue development on the application, as highlighted by News@Northeastern.
Elif Coskun, CSSH'21
"My team applied for the Honors Propel Grant to run an Effective Altruism fellowship at Northeastern. Having access to this amazing resource to create long-term change, knowing that this project will impact the world in a positive way even after I graduate, is the most amazing experience I could have hoped for."
For Elif Coskun, the Honors Propel Grant provided the opportunity to lay the foundation to affect change on an broad interpersonal level.The grant for the Effective Altruism group was initially awarded to Aadya Kaushik and her colleague Kaleen Ahmid in order to bring together others interested in Effective Altruism and inspired by Prof. Patricia Illingworth's Honors Interdisciplinary Seminar The Ethics of Philanthropy. Coskun joined the grant after participating in a summer EA fellowship at Yale.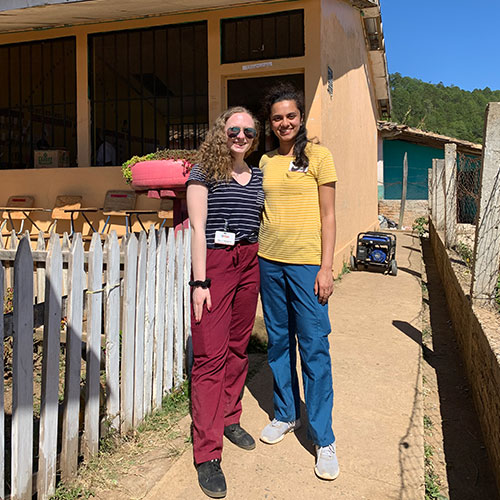 Holly Chadwick, COS'23 and Shreya Shetty, Bouvé'21
"After volunteering with Global Medical Brigades (GMB) in Panama and Honduras, we pursued research investigating pediatric illnesses among rural Panamanian communities. The Honors Propel Grant allowed us to advance this research by completing a more thorough data analysis of existing interventions Ultimately, this work will result in feasible evidence-based recommendations for future GMB programming, thus bringing our involvement full circle."
Holly Chadwick (COS'23) and Shreya Shetty (Bouvé'21) were awarded an Honors Propel Grant for A Retrospective Analysis of Common Medical Diagnoses Among Indigenous and Nonindigenous Pediatric Panamanian Patients.
Vidhan Bhaiya, COE'21
"The Honors Program allowed me the opportunity to work on my project to make walking shoes for people with diabetes by helping me study and analyze various footwear components used in these shoes. As a result, I've been able to put together a framework for making athleisure footwear that can now be used broadly in the designing of a range of such shoes."
Vidhan Bhaiya (COE'21) received an Honors Propel Grant for his research project on diabetic walking shoes. He presented his research at RISE 2020 and won an award in the Design category.
The Honors Propel Grant initiative is designed to enable University Honors students to engage in meaningful, creative, and impactful learning experiences of their own design, that is mentored and evaluated by Northeastern faculty.
Students may pursue Honors Propel Grants to begin a new project, or to expand upon a project begun in any educational context (e.g., an Honors LLC, co-op, global service project, or academic course) so that their work may have greater impact. This greater impact may occur, in any number of ways; for example, by developing and implementing a plan for a start-up company, creating an original software package, NGO, performance, exhibit, or grant proposal. Students are encouraged to be creative in the type of projects or initiatives they propose.     
Honors Propel Grants are intended to promote the development of documented learning experiences that can be evaluated and confirmed to meet the expectations of the hybrid competency-based experiential learning model. That is, the successful completion of the learning activities outlined in an approved Honors Propel Grant may be used in lieu of one Honors course to meet the requirements of graduation with Honors Distinction.
This experience is open to all University Honors students, in good academic standing, at any point in their academic career. Students are eligible to receive up to three Honors Propel Grants throughout their undergraduate years at Northeastern. Teams of students may apply for an Honors Propel Grant; however, their applications must clearly define the learning objectives and experiences planned for each participating student.
Honors Propel Grants will be awarded on a competitive basis. Awards will vary in amount, based on the approved budget requests of successful proposals. Awards will be limited to $1000 per student contributing to a project, with a maximum of $5000 per project.
See the full description with application details.
Please note: Depending up the type and scope of their proposed project, students may be referred to other funding sources. For example, students proposing a research or creative endeavor should apply for an award through the PEAK initiative offered by the Office of Research and Undergraduate Fellowships.
Anthropomorphism, Essentialism, and Artificial Intelligence – Shrreya Aagarwal, COS'21
Global Research and Consulting Group Northeastern, Agilis Project – Juan Rodriguez-Calvet, DMBS'22; & Andrea Murcia, DMSB'23
Book Publishing: "Pills, Teas, and Songs: Stories of Medicine Around the World" – Debby Nguyen, Bouvé'23
A Retrospective Analysis of Common Medical Diagnoses Among Indigenous and Nonindigenous Pediatric Panamanian Patients  – Holly Chadwick, COS'23; & Shreya Shetty, Bouvé'21
Monitoring Device Supporting the Storage of Temperature-Sensitive Medications – Benjamin Dottinger, Bouvé'23; Theodora Christopher, COS '21; & Luke San Antonio Bialecki, Khoury '21
Dr. Brinsley – Diabetic Walking Shoes – Vidhan Bhaiya, COS'21
Effective Altruism Group – Aadya Kaushik, COS'20; Sophia Slape, CSSH'22; Elif Coskun, CSSH'21; Paula Soumaya Domit, CSSH'23; Daniel Broun, Khoury'22; Elisa Danthinne, COE'21; & Kaleem Ahmid, CSSH'20