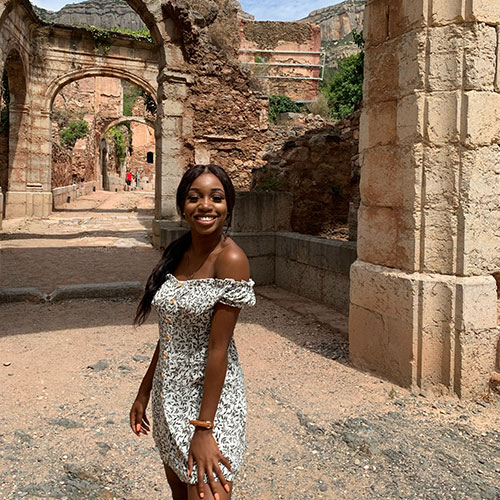 Adewumni Ade-Oyetayo, COE'23
"The University Honors Program was the first community I established comfort and trust in on campus. They fostered a welcoming environment for all of my Honors peers and I to grow and learn together. The Living Learning Communities, LLCs, provided a supportive network which allowed us to share and explore a specific interest outside of academics."
Minji Kim, Bouvé'24
"The University Honors Program taught me there's nothing wrong with being ambitious, curious, and enterprising! It continues to enrich my college experience with leadership roles, research, and events. I love how the Honors Program consistently provides for its students and encourages their areas of interest."
The University Honors Program enriches the Northeastern experience for curious students who are eager to immerse themselves in our rigorous, interdisciplinary, experiential, and student-driven approach to learning.
Honors students embark on a personalized educational journey— one that they themselves define and design—alongside a talented group of peers who share an insatiable appetite for learning, a boundless imagination, and the aspiration and resourcefulness to surmount the critical challenges confronting our world.
Honors Learning Objectives
The University Honors Program seeks to enhance the Northeastern undergraduate experience through a rigorous, interdisciplinary, student-driven approach to academic and experiential learning. Consequently, the Honors Program has adopted four learning outcomes that are intended to be met through our students' four years of personalized growth through self-directed and active learning and immersive engagement in their selected discipline, professional field, and community networks.
Honors students will achieve cross-discipline intellectual agility while gaining the depth needed for immediate goals upon graduation.
Honors students will grow as future leaders through a holistic process that, in addition to intellectual agility, emphasizes a global mindset, civic engagement, professional and personal development, and enhanced well-being.
Honors students will build intergenerational, interdisciplinary networks designed to enhance their personal and professional goals.
Honors students will cultivate self-directed learning

 practices to promote life-long curiosity and growth in an ever-changing world.
Learning that Happens Everywhere
Experiential Learning
Integrated and Student-Directed Learning
Global Citizenship
Personalized Growth Through Guidance and Support
Leadership
Networked Communities