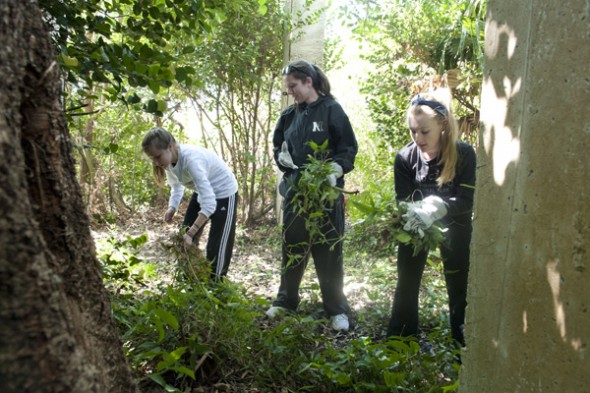 This week, 186 mem­bers of the North­eastern Uni­ver­sity com­mu­nity will travel to 15 com­mu­ni­ties across the U.S. and four other coun­tries for Alter­na­tive Spring Break—a week­long immer­sive living and vol­un­teering expe­ri­ence. Par­tic­i­pants engage in direct ser­vice projects that address crit­ical, social needs such as afford­able housing, dis­aster relief, and youth education.
This year's ser­vice projects include con­verting single-​​path eques­trian trails from to multi-​​use, sus­tain­able trails with the Amer­ican Hiking Society in Vir­ginia; the removal and con­trol of inva­sive species with the Nature Con­ser­va­tory in Oregon; devel­oping and improving infra­struc­ture at a teaching center on the Plen­itud farm in Puerto Rico; and addressing com­mu­nity needs in Ecuador with the Tan­dana Foundation.
Brenna Priest, BHS'16, and Mirasol Quin­tanilla, DMSB'17, will lead a team of 12 at the Peace­able Kingdom Retreat for Chil­dren in Killeen, Texas. The orga­ni­za­tion was estab­lished in 1984 as a fishing day retreat for chron­i­cally ill chil­dren and today offers week­long retreats throughout the year for more than 5,000 chil­dren with chronic ill­nesses, as well as their fam­i­lies and their treat­ment providers. Its goal is to pro­vide an authentic, fun day camp expe­ri­ence for chil­dren with spe­cial needs.
– See more at: http://www.northeastern.edu/news/2014/03/on-spring-break/#sthash.KbMZwcKE.dpuf