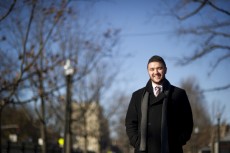 Northeastern alumnus Ross Parker, CJ'13, and his friends jokingly agree: if Birthright Israel develops a major advertising campaign, then he would make for the quintessential spokesperson.
Birthright is a 10-day educational trip to Israel aimed at strengthening young Jewish people's interest in the country's culture. After going on Birthright two years ago through Northeastern, Parker is now working for the Israeli government as the director of press and political affairs at the Consulate General of Israel to New England.
"I'm kind of the poster child for Birthright," Parker said with a laugh.
When he came to Northeastern, Parker intended to work …read more