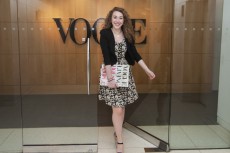 "Haute couture," "on trend," and "The September issue" are now part of the everyday parlance of third-year journalism student Rebecca Stadlen, who has spent the last year working for Vogue, one of the world's most influential fashion magazines.
From June to December 2011, Stadlen completed a co-op at Vogue's New York City headquarters, where she got the opportunity to write a story for Vogue.com and assist with high-fashion photo shoots.
Her tenure was extended to a semester-long internship, which ended in June with a freelance job offer — as an undergraduate — to work for the magazine.
"I …read more